Spain defeated Argentina 95-75 here on Sunday to claim the 2019 FIBA World Cup title.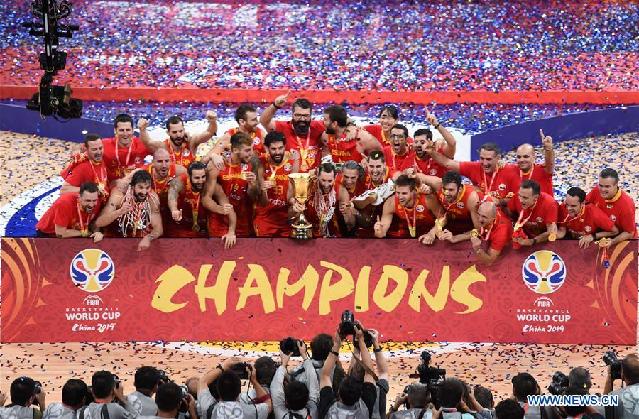 Team Spain celebrate during the awarding ceremony after the final match between Spain and Argentina at the 2019 FIBA World Cup in Beijing, capital of China, Sept. 15, 2019. (Xinhua/He Changshan)
Spain defeated Argentina 95-75 here on Sunday to claim the 2019 FIBA World Cup title.
Last time Spain captured the crown was 13 years ago in 2006. Ricky Rubio pocketed 20 points, Sergio Llull added 15 off the bench, Marc Gasol collected 14 and Rudy Fernandez had an 11-point, 10-rebound double-double. The Hernangomez brothers combined for 22 points.
"Spain played greater than us. Their plan and execution were perfect. They have great players with more experience. They were really better than us tonight. We were not tired, we wanted to win, we really felt great before the game, but this is basketball. If you play better than the other team, you'll win, and Spain was the better team today," said Argentina head coach Sergio Hernandez.
"Argentina deserved all our respect. They are fierce competitors. It's a joy, and I can only be proud of what these guys did. We were not the tallest or most talented or in the odds when the tournament started, but we worked hard. They didn't lose faith in themselves, and basketball rewarded them," Spain head coach Sergio Scariolo said.
Gabriel Deck contributed 24 points for Argentina, followed by 17 from Nicolas Laprovittola. Facundo Campazzo finished with 11 points and Luis Scola scored 8, while only shooting 3-of-21 from the field together.
Spain opened up the game with an 11-2 run before Argentina hit back with 11 unanswered points to trim the deficit to 1 point on 13-14. Spain surged to a 17-1 run again to expand the lead to 17 points on 31-14 in the second quarter, in which Spain played good defense and kept Luis Scola scoreless.
Spain opened up the third quarter with a 12-2 run, up to 55-33 before Argentina made it back to 55-39 after back-to-back three-pointers by Facu Campazzo and Gabriel Deck. With a great defensive output, Spain repelled Argentina's comeback and put the game beyond reach in the last period.