China has urged its young guns to play their part in making this year's FIBA World Cup a tournament to remember after the host nation discovered its group-stage opponents over the weekend.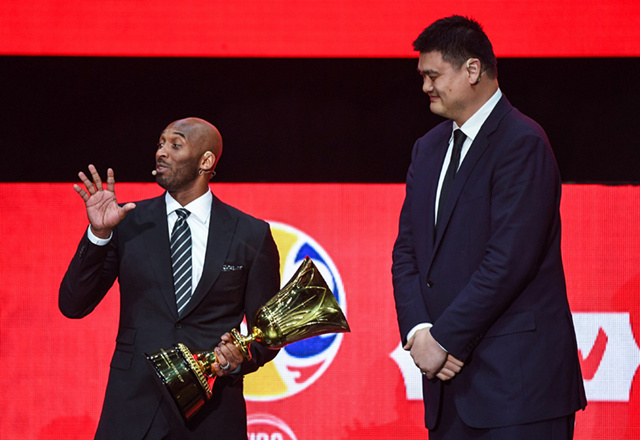 NBA greats Kobe Bryant and Yao Ming acknowledge the crowd during the FIBA World Cup draw ceremony in Shenzhen, Guangdong province on Saturday. XINHUA
Host's hopes rise as draw ceremony ups anticipation
China has urged its young guns to play their part in making this year's FIBA World Cup a tournament to remember after the host nation discovered its group-stage opponents over the weekend.
Saturday's star-studded draw ceremony at Shenzhen Bay Arena, where the 32 teams were assigned to eight groups, heightened anticipation levels for the event, which will be staged from Aug 31-Sept 15 in eight Chinese cities.
Rising forces such as Spain and Argentina are expected to pose a stiff challenge to two-time defending champion the United States, but after being drawn in a relatively easy Group A with Cote d'Ivoire, Poland and Venezuela, Team China is also planning to make its mark.
"After the dust settles, I would love to hear from our players that they've done their utmost and they've made their country proud," said Yao Ming, chairman of the Chinese Basketball Association, at the ceremony.
"Big breakthroughs at major events enshrine a generation of players, especially when they happen at home. I hope that 10 years later this team of players will still be remembered for what they did at the World Cup."
Around 8,000 spectators packed into the arena to witness the draw, which was conducted by Chinese pop star Yang Chaoyue, a member of the idol group Rocket Girls 101, and NBA legend Kobe Bryant, and was staged in conjunction with FIBA's global partner Tencent Sports.
After going 0-5 at the 2016 Rio Olympics and failing to qualify for the last World Cup, in 2014 in Spain, Asian Games champion China is under heavy pressure to deliver an improved performance at home.
Should China emerge from Group A, it will face one of the top two teams from a tougher-looking Group B, which features Argentina, Russia, South Korea and Nigeria.
China will tip off its campaign against Cote d'Ivoire on Aug 31, followed by a match against Poland on Sept 2 before facing Venezuela two days later. All three games will be played at the 18,000-seat Wukesong Arena in Beijing, where China finished eighth at the 2008 Summer Olympics to tie its best record at the Games.
At the 2010 FIBA World Championship, China beat Cote d'Ivoire 83-73, but its last match against Venezuela, at the 2016 Olympics, ended in a 68-72 defeat. China and Poland have never met before in official competition.
Despite the favorable draw, Team China's head coach Li Nan warned against underestimating the opposition.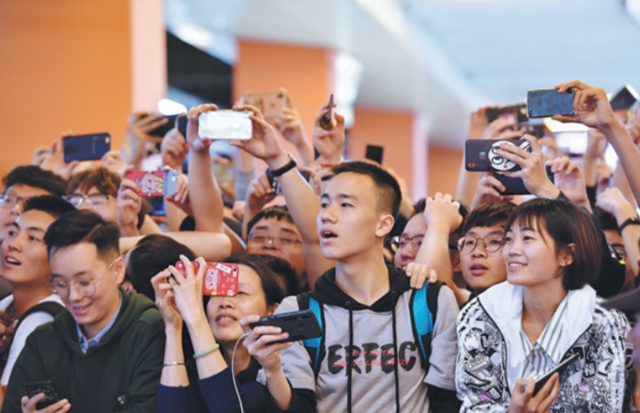 Fans wait to catch a glimpse of their basketball idols before the FIBA World Cup draw on Saturday in Shenzhen. XINHUA
Spearheaded by former NBA player Yi Jianlian, fellow center Wang Zhelin-a second-round draft pick for the Memphis Grizzlies in 2016-and young playmaker Guo Ailun, China's primary aim is to finish the tournament as the top Asian team in order to qualify directly for the 2020 Tokyo Olympics.
However, Bryant, the tournament's global ambassador, has urged China to aim even higher.
"I think Chinese basketball needs to get to a place where they say playing well at one tournament isn't enough, we want more," said the Los Angeles Lakers legend, a frequent visitor to China since 1997.
"Now you have to take it to another level … can't just be comfortable being here. It's time to push the next generation to try to get on the medal podium."
Rescheduled from 2018 to avoid a clash with FIFA's soccer World Cup, this year's tournament has expanded from 24 to 32 teams, who emerged from a revamped qualification system that lasted 18 months and aimed to involve as many countries as possible.
"This allows us to go into more markets and to create long-lasting excitement around the event," said FIBA secretary-general Andreas Zagklis, who was appointed in December.
Zagklis is also confident that the joint efforts between FIBA and the CBA will leave a lasting legacy for Chinese basketball after the World Cup.
"We are not here to deliver the Cup and leave. We are here to stay by making big investments," said the 38-year-old Greek.
"Of course our sport is very popular in China and organizing the Cup will make it even more popular. A good performance by the national team will give it an extra boost. We are harnessing our potential under the leadership of Yao Ming."
FIBA's footprint in China has become more noticeable in recent years. Last June, the governing body unveiled plans to build a "one-of-a-kind" basketball academy in Beijing in conjunction with Beijing Enterprises Group Company Limited to foster young Chinese talent.
And, in collaboration with the CBA, the first-ever FIBA World Basketball Summit was held in Xi'an, Shaanxi province in October.