Renowned Guangzhou based artist Xu Hongfei has continued his world tour, exhibiting his sculptures in 26 cities to showcase this fantastic culture.
Sculpture as an extremely tangible art form, can work as a special bridge to connect cultures. Renowned Guangzhou based artist Xu Hongfei has continued his world tour, exhibiting his sculptures in 26 cities to showcase this fantastic culture. "Uniqueness is essential for Cantonese culture to go global," said Xu.
Actually since 2013, Xu Hongfei's chubby women have visited many cities and countries in the world, including Sicily, Turin, Tuscany, Milan, Florence, Siena, Rome in Italy, the Louvre in France, Istanbul in Turkey, Columbia in Peru, etc.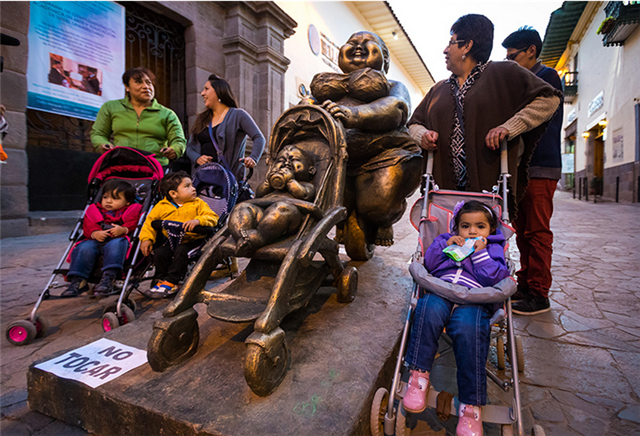 Columbians pose in imitation of a Xu Hongfei 'Chubby Woman' [Photo provided to Newsgd.com]
As one of the first artists from Guangdong to have made it on the global stage, Xu's chubby women have become one of Guangdong's cultural trademarks.
Unlike many other Chinese artists, Xu works with female subjects engaged in the activities of daily life - riding bikes, running, flying, kissing and even holding their friends and lovers. They look airy, full of confidence and are immersed in the outdoor surroundings, which offer a stark contrast to their plump bodies.
By showing the chubby female sculptures, it promotes composure, optimism and confidence; concepts which are confined to no particular culture or nation. The exhibitions also show the ways how people in Guangdong live to their audiences all over the world.
Due to the characteristics of these sculptures, they may gradually change peoples' stereotypes of the Chinese. Furthermore, most often the sculptures are exhibited outdoors in public spaces, such as the square in front of Sydney Opera House, making artistic works more accessible to visitors and arousing people's curiosity.
It is estimated that there have been about 20 million visitors in total over the 26 stops of the exhibition, and there have been a lot positive remarks about Xu's works.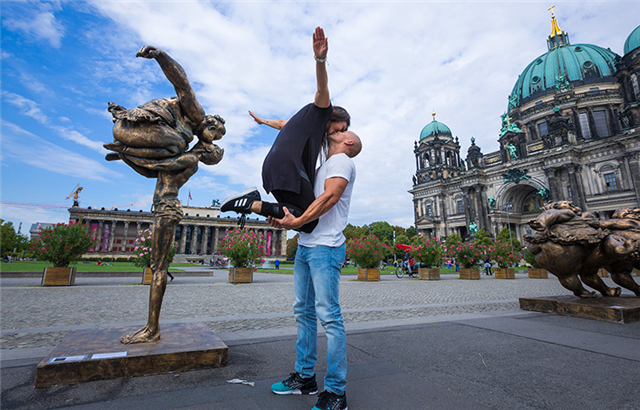 Berlin couple pose in imitation of a Xu Hongfei's 'Chubby Woman' [Photo provided to Newsgd.com]
One of the exhibition planners in Berlin, Dr. Acksteiner Events said that he was keen to show the happy sculptures to Germans."In his (Xu's) works, every female figure is filled with passion and energy. You can see in their eyes. This touches me." He believed it will lead to positive debates that whether they should introduce more diverse Chinese modern art and artists into Germany.
"Xu has captured the flow of light and shadow, using the curves on the body and the volume itself in these unusually plump women, and established his own unique vocabulary in the field" said Chinese critic Mao Shi'an.
Xu is confident that the sculptures can appeal to most people, since he believes sculpture is a universal kind of art like music. Sculptures are a democratic medium created to convey a message to the public like love or humor.
"Sometimes, one famous artist can boost the cultural development of a city even a country, however, we lack these (influential artists)," said Xu. He suggested artists should make it their mission to produce more characteristic works to reflect the daily life of Chinese people and showcase it to the world.
Xu's exhibition will come to Zhuhai next month.
Xu's famous sculptures and a photo exhibition of his previous tour will be presented during the 21st Century Maritime Silk Road Forum at the Zhuhai International Convention & Exhibition Center from Nov 28 to 30.
---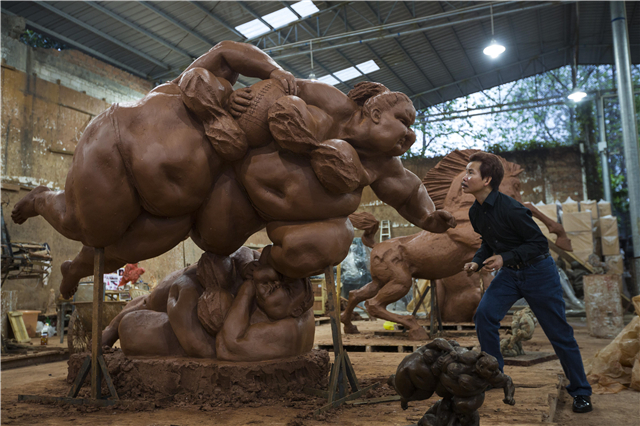 Xu Hongfei creating a 'Chubby Woman'. [Photo provided to newsgd.com]
About sculptor Xu Hongfei:
Xu Hongfei, born in 1963 in Yangjiang City, Guangdong Province, graduated from the Department of Sculpture, Guangzhou Academy of Fine Arts in 1990. He is currently the president of the Guangzhou Sculpture Academy and a national first-class artist.
In recent years , He has developed his own characteristics in the Chinese sculpture circle through the series of " chubby women ". His talent lies in how he applies multiple-perspectives and different materials to create "clubby women" with humorous and dynamic appearances. His works are bold and exaggerated yet rational. They perform a sculptural comedy after the fashion of 'Laurel and Hardy', subverting the sculptural norms when it comes to depicting body types.
Author: Will Wei
Editor: Simon Haywood