As a matter of fact, whether Alan is on the field or not, his contribution to the team is undeniable. Alan has played nearly one hundred competitions and won eight championships for Guangzhou Evergran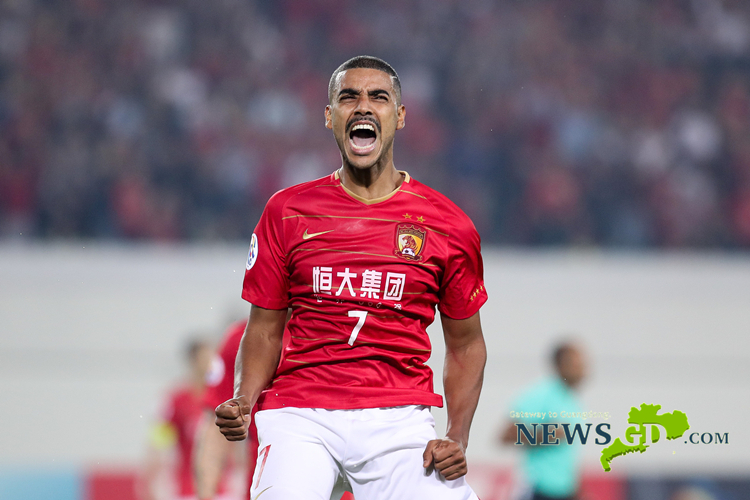 (Provided by Guangzhou Evergrande)
Personal File:
Name: Alan Douglas Borges de Carvalho
Nationality: Brazil
Duration in Guangdong: since 2015
The Guangzhou Derby has been always a big event for the province's capital. On the evening of August 5th, however, Alan Garvaloh, a Brazilian striker playing for Guangzhou Evergrande FC, sat quietly in the auditorium of the Yuexiushan Stadium, Guangzhou R&F's home ground.
As a matter of fact, whether Alan is on the field or not, his contribution to the team is undeniable. Alan has played nearly one hundred competitions and won eight championships for Guangzhou Evergrande since January of 2015. Also he was named the Chinese FA Super Cup's most valuable player twice.
It is in this beautiful southern city of Guangzhou that Alan and his family welcomed a second baby. "I feel at home in Guangdong," the Brazilian forward frankly admitted.
Reported by Nan & Eric
Chinese version by Nan & Rebecca
Edited by Olivia & Simon
---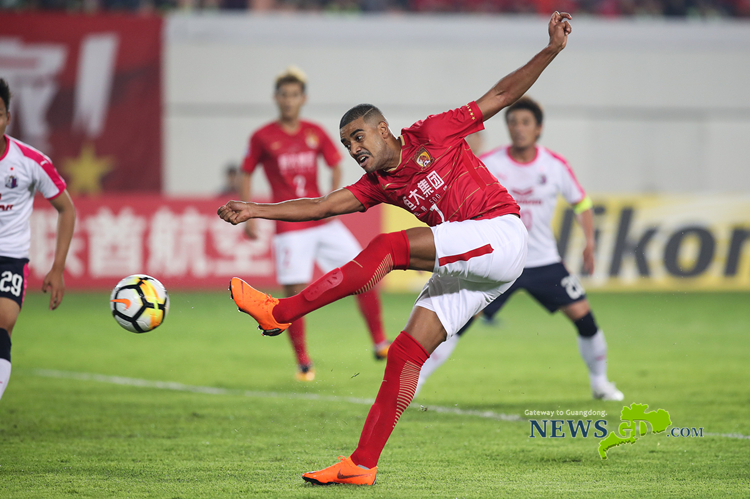 (Provided by Guangzhou Evergrande)
A city of glory
Alan's beginning in Guangzhou was not so prefect. He has undergone his fair share of hardship since he started his career in professional football back in 2007, notably suffering a cruciate ligament injury during training just one month after his debut for Evergrand in February 2015. After a year out of action he recovered fully and swiftly went back to playing an outstanding game of football.
"Before (I joined Guangzhou Evergrande), I thought that I might easily score 50 goals in one season. But it was not as easy as I expected. Many foreign players came, only to find their dreams hard to achieve," the 29-year-old striker admitted during an interview with a Brazilian newspaper this March.
Before his present role at Evergrande, Alan played for Red Bull Salzburg in Austria. Titled the UEFA Europa League Top Goalscorer in 2014-15 season, Alan had a moment of hesitation when it came to relocating to China. After some discussion with his family, he decided to sign the four-year contract with a transfer fee of 11.1 million Euro.
Alan was able to resume his professional career quickly enough. Nearly 15 months after his injury, he came back to the field, and scored 18 goals in 35 appearances as Guangzhou won the double of 2016 Chinese Super League and 2016 Chinese FA Cup.
According to the latest statistics, till May 15th of 2018, Alan scored 51 goals in 51 appearances for Guangzhou Evergrande. A statement by Guangzhou Evergrande described Alan as a "blade", who is physically very strong and make wise use of opportunities. He has also been said as "strong, energetic, skilled" and a player with good control of the ball.
Alan is impressed by his Chinese teammates, and the progress they have made. In recent years these has been a substantial amount of emphasis placed on the sport by the government, and as a result, its popularity in schools and society as a whole has grown. Alan praises the improvement of the players around him and in the country as a whole. He is positive about measures to promote professionalism in this field.
---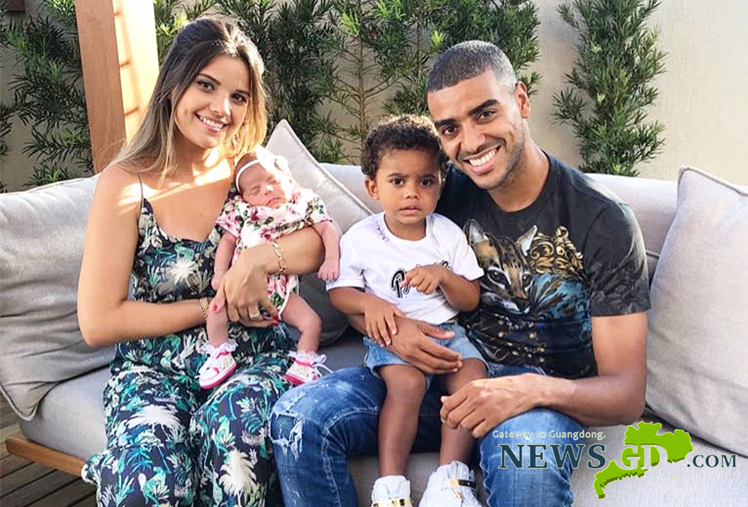 Alan and his family in Guangzhou.(Provided by Guangzhou Evergrande)
A city of friendliness
Relocating in Guangzhou was a huge step for Alan and his family, even though the fact that he has other Brazilian teammates at Guangzhou Evergrande who he can share his experience here with.
Alan came to Guangzhou, only to find that it is more international than he originally thought. Initially, Alan's concern was regarding the food and language barrier. But he was quick to adapt to life in Guangdong, where he enjoys all kinds of food, from home and abroad.
Alan insists that Guangzhou has no lower degree of globalization than other major cities. He describes people here as "remarkably open-minded and friendly to foreigners", and appreciates the city for its diversified culture, both traditional and modern. In a previous interview, Alan said Guangzhou is great place to live, and even came to the conclusion that his life in Guangzhou is better than it was in Salzburg.
Alan himself has experienced major changes in his personal life as well-It was in Guangdong that he welcomed his second baby. When Guangzhou Evergrande defeated Changchun Yatai with a 5-0 thumping on the evening of March 9th, Alan celebrated his second goal with the a cradling gesture for his coming child.
When it was time for Alan to find a proper education for his elder child, he was pleasently surprised that there is not only education in Chinese, but also schooling provided by Americans, British and even Brazilians. Alan says his family appreciate the life here, made easy by convenient health care and education.
---
恒大外援阿兰:在广东找到家的感觉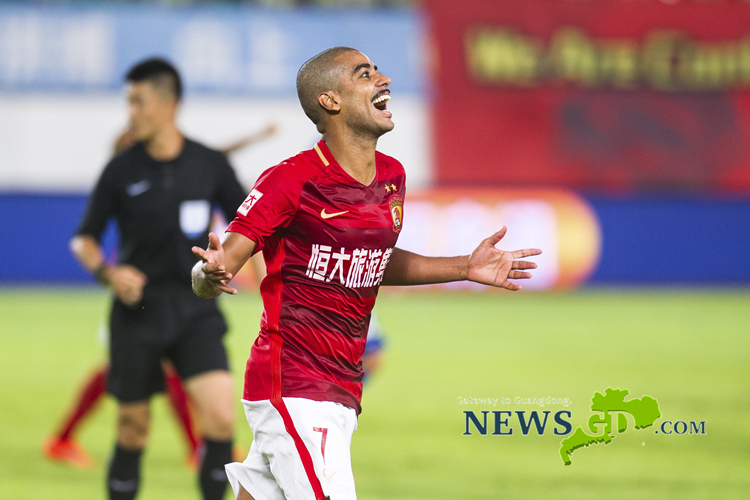 对于广州来说,每一场广州德比都是一场大戏。只不过,8月5日晚的广州德比,阿兰·德卡瓦略,这名来自巴西的广州恒大前锋,静静地坐在越秀山体育场的看台上。
    事实上,不管上场与否,阿兰为恒大所作出的贡献都不可忽视。自2015年1月登陆广州以来,阿兰已经代表恒大参加了近百场比赛,在他的帮助下广州恒大赢得了8个冠军。他的第二个孩子出生于广州这座美丽的南方城市。"对于我们外国人来说,在广东找到家的感觉,"阿兰在接受南方日报和南方英文网的联合采访中如是说。
荣耀之城
    在加盟恒大之前,阿兰曾效力于奥地利的萨尔茨堡队,并当选2014-15赛季欧联杯的最佳射手。他曾经很犹豫要不要来到中国,和家人讨论一番之后,他决定签下这份为期四年的合同。
    阿兰初来广州的时候并不顺利。2015年3月,首秀之后的一个月,他在训练中左膝十字韧带撕裂,被迫缺席整个赛季。经过一年多的恢复,阿兰才回到球场。
    今年3月,在接受巴西一家报纸采访的时候,这名29岁的前锋坦白说:"在加入广州恒大之前,我以为要在一个赛季内打进50粒球,并不是什么难事。但事实证明我想得太简单了。很多外国球员来到了这儿,却发现自己的梦想难以实现。"
    好在阿兰的职业生涯很快就回到了正轨。受伤近15个月后,他终于回到了赛场。在剩下的2016赛季中,阿兰在出场的35场比赛中射中18粒进球。在随后的征战中,阿兰也无愧于恒大称之为"球场上的一把狂刀"。截至2018年5月15日,阿兰一共代表恒大出场94次,共射进51个进球。他本人也两度荣膺中国足协超级杯最有价值球员。
    无论是恒大的中国队员,还是他们取得的进步,都给阿兰留下了深刻的印象。近些年来,中国政府日益重视足球运动的发展,足球也受到了越来越多中国人的喜爱。阿兰对队友的进步大加赞扬,并且肯定了中国为了促进足球专业化所采取的一系列措施。
友善之城
    尽管广州恒大还有其他巴西籍球员,他们会和阿兰一起分享经验,但来到广州对于阿兰和他的家庭来说确实是一个重大的决定。
    来到广州之后,阿兰发现这里比他原本想象的要更加国际化。他本来很担心会有语言障碍,也会不习惯广州的饮食,但事实是,他很快就适应了在广东的生活,这里有各种中外美食,阿兰都很喜欢。
    阿兰很肯定地说,广州的全球化程度绝不低于其他大城市。他说:"这里的人都非常开放,对外国人也很友好"。在阿兰眼里,广州是个多元的城市,传统文化和现代文化在这里交融。在此前的采访中,阿兰曾表示,广州非常适合居住,和萨尔茨堡相比,他更喜欢住在广州。
    在广东生活的这段时间里,阿兰的生活也发生了巨大的变化:他迎来了自己的"二宝"。2018年3月9日,广州恒大5-0大胜长春亚泰,比赛中阿兰梅开二度,进球之后他做出了怀抱婴儿的姿势,以此庆祝他的第二个孩子即将出生。
    当阿兰大儿子到了入学年龄时,他惊喜地发现,广州不仅有中国学校,还有美国人、英国人甚至巴西人办的学校。阿兰说他和家人都很喜欢这里的生活,就医、就学都非常便利。