On our drive from Zhujiang New Town to Nansha, we passed through green farmland and quiet villages together with giant factories, and high rises.
On our drive from Zhujiang New Town to Nansha, we passed through green farmland and quiet villages together with giant factories, and high rises. 40 minutes later, we eventually stopped in front of a shady greenway by a babbling stream.
As we looked around, we found him, smiling and waving at the end of a narrow alley. "Welcome to my studio," he said.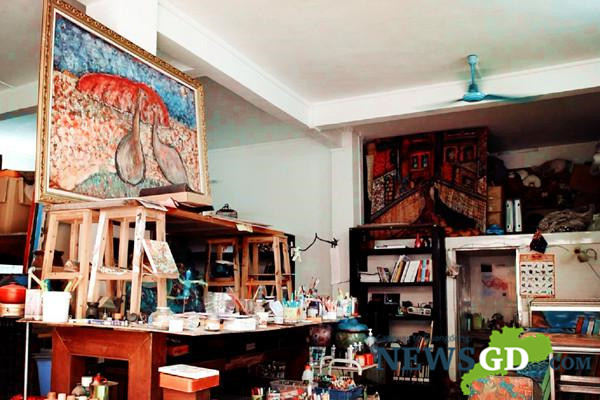 Justin's studio in Nansha
He is Justin Ole Fischer, an Australian artist who is currently living in Nansha. He came to China in 2004, first living in Fuzhou and Shenzhen. "For me, Nansha is a more suitable place." This is where he has lived for 12 years.
Reported by Jasmine Yin, Rebecca Tao
Edited by Wing Zhang, Simon Haywood
---
Painting Guangzhou with the world's largest color set
Walking into Justin's studio, we saw countless works of art leaning against walls and lying on shelves. Although the light was dim, the bold colors in his paintings instantly captured our attention. Green kangaroos, blue fishes, orange birds and brown emus indicate his obsession for colour and nature.
"I inherited my love for color from my mother who is also an artist. But it was in Guangzhou that I found the world's largest color set," Justin said excitingly, pointing to a shelf where he keeps a wide range of pigments, "one of my friends owns a leading brand. She invited me to paint her bags and introduced me to this amazing color set—women's nail polish!"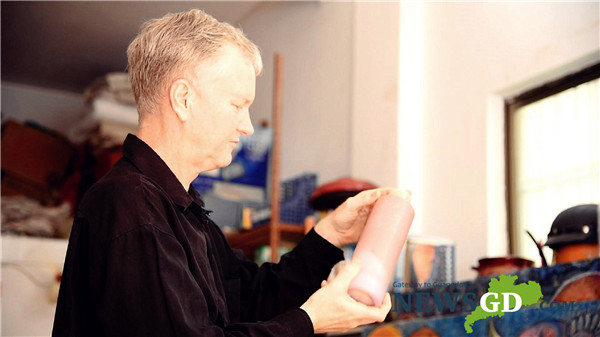 Picking up a large bottle of glitter pink, Justin said, "a small bottle of nail polish may cost you 100 yuan, but this just cost me 30 yuan. I found these beautiful colours in a factory along Guangzhou's Metro Line 2."
He said he knows the city even better than some of his local friends. He loves wandering around, observing people, architecture, details and the changes that are taking place. "When I first came here, I got on the buses at weekends, going from one end to another and then coming back, just looking at the city."
If you look into the detail, you can find hints of Guangzhou and Nansha in Justin's painting. Litchis, fishermen's hats and Qilou (Guangzhou's arcade shop-houses), are all presented in a range of exotic colors.
"I paint animals, sea creatures and lots of things because I like the environment. (Previously) there wasn't so much concern for the environment. But things are changing. And it's good," he said, "for example, I live here in nature. Nansha is a beautiful area. I can see stars three or four nights every week."
---
From an artist to a curator
In Justin's eyes, Guangzhou is the place where he discovered his dream. Although Justin started painting when he was very young, it was not until he met Wu Shaoning, Chief Curator of Art Canton, that he began to realize he likes art very much and has the ability to help other artists.
An unfinished art work in Justin's studio containing litchi and other Chinese elements.
"Mr. Wu has a friend in Beijing who is one of China's top artists. He helped me organize my first big exhibition," he said, "from that point on, I found my passion and the unique style in my paintings. I thought that maybe I could learn about the curating process."
Justin decided to stay in Guangzhou because his art business had taken off and he has more chance to exhibit his artworks here and other cities in China. "Compared to my home, Australia, Guangzhou has a much larger population, which means a larger market for artists."
In fact, Guangzhou's art market has been experiencing rapid development recently. More than 20 art exhibitions were held in the city during the month of March only. According to the Art Market Monitor, Artron, Guangzhou has the fourth highest transaction volume in China's art auction market, behind Beijing, Hong Kong and Shanghai.
---
"Guangzhou is the best and cheapest place for artists to buy art materials. It also has lots of art schools," said Justin, "but something is still missing because it doesn't have so many art events to build up an art community." This is why he joined the Art Canton.
Art Canton was an art project established in 2010, aiming to provide a platform for artists to approach a broader range of art buyers. Now it has become the most influential art expo for both traditional art and contemporary art in South China.
Justin said he has been very busy lately because he is now a curator helping Wu Shaoning to organize exhibitions.
"I got to know many foreign artists because of Art Canton. I'm also building up my Linkedin network. Now I'm connected to almost ten thousand people including artists, professors, government officials and staff from the world's major art institutions."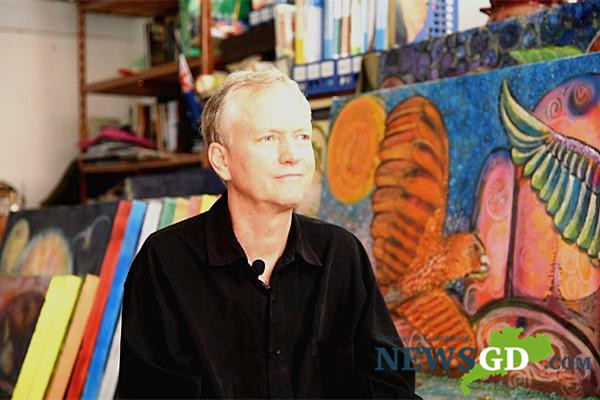 Justin and his paintings
Justin believes his network can help local artists connect with the global market.
"Because of my connections and Art Canton, I can act as a bridge and allow Guangdong and countries which are interested in Guangdong open up to each other, boosting exchange between artists."
Building Guangdong's art community and connecting it with the world is what Justin is starting to get involved in. He suggested that the government could cooperate with companies and hold more large-scale international competitions for contemporary art, so that the city can attract more buyers and patrons.
"I know China has pushed forward the Belt and Road Initiative and I think art is an important part of it. Now that there are many Chinese modern artists in Shenzhen and other cities, Chinese art can also go out along the Belt and Road, not just to make a living for artists but also to spread Chinese culture and illustrate its development," said Justin.
---
澳大利亚艺术家笔下的"广州色彩"
      从珠江新城去往南沙的高速公路上,绿树良田和林立的工厂、拔地而起的高楼渐一一映入眼帘。40分钟后,我们拐进了一条林荫绿道,顺着路旁的潺潺流水,停在了最后一个十字路口。
      环顾四周,我们看到窄窄的巷子里有人朝我们使劲挥手,待我们走近,他亲切地说:"欢迎你们!"
他就是Justin Ole Fischer,一名定居在广州南沙的澳洲画家。他2004年来到中国,去过深圳,也去过福州,而最终选择了南沙,这一住便是12年。Justin说:"南沙更适合我!"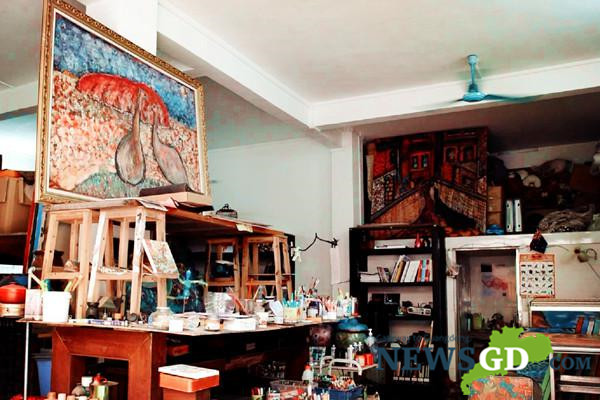 Justin在南沙的画室
以最丰富的色彩描绘最绚烂的广州
      走进Justin的画室,满目是数不清的画作,靠墙立着的,架上堆着的,放的满满当当。尽管灯光昏暗,画里鲜艳大胆的用色还是一下子就抓住了我们的眼球:绿色的袋鼠、蓝色的鱼群、橙色的鸟儿、棕色的鸸鹋……每一笔都向我们展示着作者对色彩和大自然的热爱。
     "我的母亲也是一名画家,我在她那里继承了对色彩的热爱,而在广州我发现了世界上颜色最丰富的颜料,"Justin一边给我们展示架子上琳琅满目、色彩缤纷的不同颜料,一边兴奋地说道,"我有个朋友,自己创立了一个皮革牌子,她之前邀请我在她们生产的包包上作画,用的是一种特别的颜料。也就是那时候,我才发现原来世界上色彩最多的颜料是女生的指甲油!"
      Justin拿起了一个装满闪粉色液体的瓶子,像拾起了一件宝物:"你们买一小瓶指甲油差不多要花100块吧,但是我这一大瓶只要30块。广州有一家指甲油工厂,坐地铁2号线就可以到,我就是在那个工厂买到这些指甲油的。"
      Justin认为自己比一些本地朋友还熟悉广州一些。他平日喜欢四处走走,观察身边的人、建筑以及这座城市点点滴滴的变化。他说:"我刚来广州的时候,总喜欢周末去坐公交车,从这一头坐到那一头,再从那一头坐回来,就是想看看这座城市。"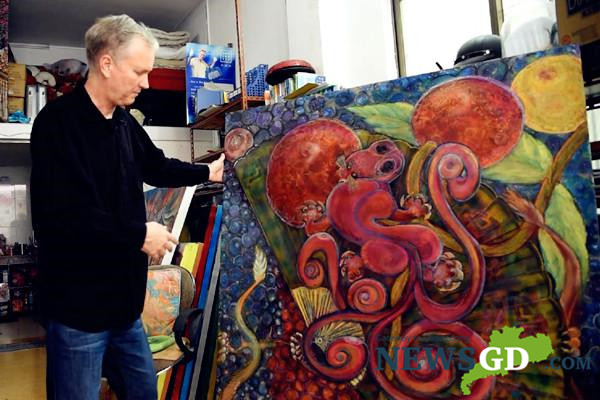 Justin给我们展示一幅还没完成的画作,画里有荔枝、扇子、龙等中国元素。
      要是仔细看Justin的画,你便能发现其中关于广州和南沙的线索,比如岭南荔枝、广式骑楼和南沙渔民的帽子。不过你也许要费点心思,因为这些线索都被鲜艳、浓郁的色彩装点得充满异国情调。
     "我喜欢画动物、画鱼、画很多东西都源自我对大自然的热爱。以前人们并没有那么关心环境,但现在不一样了,我觉得这是一个很好的转变,"Justin说,"南沙的环境就很好,住在这里我觉得离自然很近,每星期我都能看到碧蓝的天空、漫天星星。"
艺术家蜕变策展人
      对Justin来说,广州也是他发现梦想的地方。虽然自幼学习画画,但遇到艺术广东的总策展人武少宁之后,他才意识到自己对艺术的热情,发现自己也可以帮助到其他艺术家。
     "武先生有位北京的朋友是非常有名的艺术家,他策划了我参与的第一个大型画展,"Justin说,"从那时起,我发现了贯穿自己不同作品的独特风格。同时,我真正觉得艺术特别有趣,觉得自己也许可以学习如何策展。"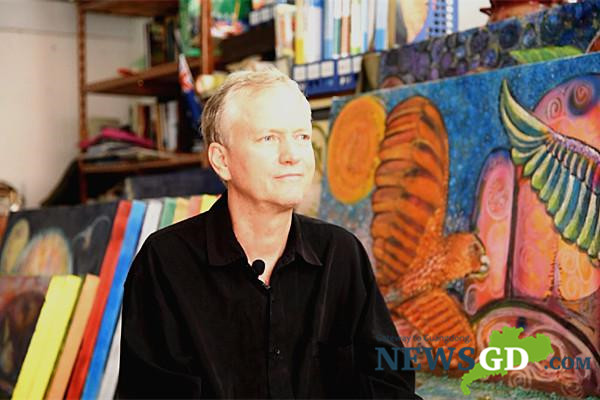 Justin和他的画
      随着Justin的艺术事业逐渐起航,在广州和国内不同城市得到越来越多的参展机会,他决定留在广州,"相比澳大利亚,广州的人口多很多。对艺术家来说,这意味着广州有更大的市场。"
      事实上,广州艺术市场正在迎来自己的春天。仅仅是今年3月份,广州就有有20多个艺术展览开幕。据雅昌艺术市场监测中心统计,在城市排名中,2017年中国纯艺术拍卖市场成交总额,广州排名全国第四,仅次于北京、香港和上海。
      "对画家来说,广州很便利,这里买颜料和工具最齐全也最便宜。广州还有很多艺术院校,"Justin说,"但是有一点还需要我们努力,就是广州的艺术圈发展还不完善。"而这,正是Justin加入艺术广东的初衷。
      艺术广东于2010年创办,迄今为止已经走过了八个年头,成为华南地区最顶级的艺术博览会。它旨在为艺术家们提供一个展示的平台,让更多的买家看到他们的作品。
      Justin说他最近是个"大忙人",因为他要帮助武少宁,协助策划今年的展览。"在艺术广东,我认识了很多外国画家。我也在不断拓展自己的领英网络,现在我在领英上有将近一万个朋友,他们包括画家、教授、政府官员,还有全球各大艺术机构的员工。"
      Justin相信他的人际关系可以拉近广州本土艺术家和全球艺术市场之间的距离。"因为艺术广东和这些海外联系,我觉得自己像一座桥,可以让广东和那些希望了解广东的国家向彼此开放,促进国际交流与合作。"为建立一个更成熟的本土艺术社群,Justin正贡献着自己的努力,他建议政府可以和企业合作,在广东举办更多国际性的当代艺术比赛,这样可以吸引更多买家和赞助商。
      Justin说:"我知道中国提出了'一带一路'倡议,我觉得艺术也应该是其中重要一环。目前,深圳和其他城市涌现了有很多优秀的现代艺术家,他们的作品可以沿着'一带一路'走出去,这样不仅艺术家们可以有更多的收入,也可以弘扬中国文化,促进中国文化的发展。"
记者:尹珏文、陶心怡
编辑:张莹