When we stepped into Guangzhou Women and Children Medical Center at 8 o'clock on Monday morning, this public hospital located in Zhujiang New Town, as usual was already crowded.
When we stepped into Guangzhou Women and Children Medical Center at 8 o'clock on Monday morning, this public hospital located in Zhujiang New Town, as usual was already crowded. Walking through the crowd, we were heading to Abraham Morse's office on the 11th floor.
His office looks like any other doctor's office in China, painted uniformly in shades of gray with a tidy desk and a hospital bed. However, the English handbooks on the bookshelf and the diplomas from overseas on the wall suggest something different.
The photo shows the bookshelf in Abraham Morse's office. Morse said he loves trying different types of Chinese tea.
The office's occupant, Abraham Morse, was one of the very first foreign doctors working full-time in Guangdong's public hospitals. He came here to be the chief of a urogynecology department in 2016, which, as he described, is "a unique opportunity" that has connected him with the city.
Morse said working in a Chinese public hospital while clearly different to working in the U.S. sometimes shares more in common than you might expect.
Over the past two years, he has undertaken clinical care, helped improve surgical and academic training, as well as having taught English while learning Chinese at work. "In the beginning, my colleagues spoke English so that I could understand, but now when they speak Chinese I can understand. Medical terminology is not that hard, for example, "宫外孕" is ectopic pregnancy."
Reported by Jasmine Yin
Edited by Wing Zhang, Simon Haywood
---
How a foreign doctor came to work in a Chinese public hospital
Graduating from Harvard Medical School, Abraham Morse is a professional in the field of urogynecology experiences both in clinical care and directing research teams. He first visited China more than thirty years ago in 1986, and he always hoped that he could find a way to return.
"I like China and think we have something in common. I like people's attitude here. They are hardworking and value education so much that they want their children to have the best that they can." As his children were growing up, Morse wanted to give them the experience of living somewhere else and seeing that the world is much larger than Boston, Massachusetts.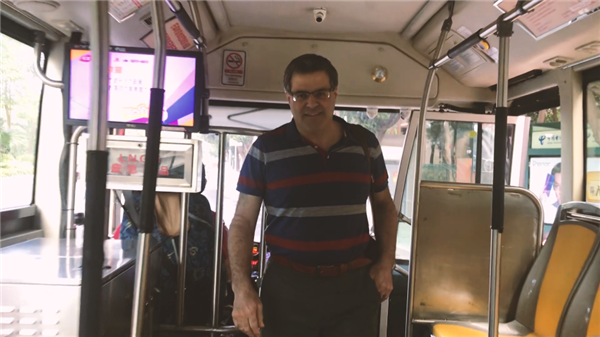 Doctor Morse said he goes to work by bus everyday in Guangzhou.[PhotoShi Lei]
It was in 2016 that Morse discovered that the Guangzhou Women and Children Hospital was looking for a western trained physician to lead their urogynecology department. "It was not a very common kind of opportunity. Foreign doctors might have short-term training in public hospitals, but usually end up working in private hospitals. So I felt very intrigued."
In recent years, Guangzhou has been focusing on the development of its IT, AI and bio-tech industries, formulating a series of advantageous policies for enterprises to hire overseas professionals like Abraham Morse and for these experts to live and work in the city.
According the latest report released by the Center for China and Globalization in 2017, there are 200,000 overseas experts working in Guangdong each year, accounting for 20.8 percent of the national total; Guangzhou being the top destination with one third of the provincial total.
---
Abraham Morse is having a regular check on the patient.[PhotoShi Lei]
Morse said having foreign doctors is essential if a public hospital aims to improve medical services and be more connected to the international community.
"Guangzhou's medical industry has been developing rapidly. However, the availability of technology, safe anesthesia and very advanced surgery are relatively new here, but are well developed in the U.S. and Western Europe. So we can share our knowledge and help people to advance their capabilities more quickly," he said
Meanwhile, Morse teaches research methods and professional English every day. He considers it important for local doctors to be able to understand English language journals and write papers in English. "They can submit their papers to high quality international journals and make it easier for the hospital to become successful as an international medical center."
---
A public hospital's international vision
Guangzhou Women and Children Medical Center is a public hospital with an international vision. Dr. Morse said the president Dr. 夏慧敏 has a lot of ideas to develop the hospital. Dr. Morse also said that he has participated in many international exchange activities in the past two years.
"If somebody from outside China visits, I can be the one to help introduce how the hospital works and who they need to talk to. Hopefully helping them understand what's available here and what kind of collaboration would likely succeed."
In February, the hospital had an international meeting sponsored by Nature, a medical journal with one of the widest readerships in the world. The meeting brought experts to give lectures and people came from all over the region to both listen to and to interact with them.
"I was lucky enough to help one of the lecturers (a very successful gynecologist) by showing her around Guangzhou. Besides helping her adjust to the city and to make their meeting more productive, I was excited because I got to meet someone that I wouldn't have met otherwise," he said.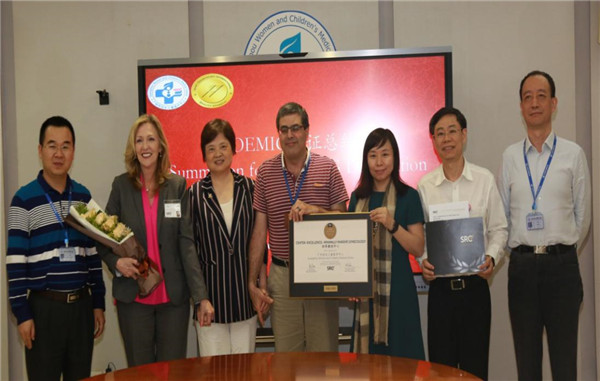 The Surgical Review Corporation (SRC) presents the certification of Center of Excellence in Minimally Invasive Gynecology to the Guangzhou Women and Children Medical Center. Abraham Morse is a project member. [Photo Official website of the Guangzhou Women and Children Medical Center.]
In addition, Morse has been involved in the hospital gaining certifications from the world's major medical and healthcare commissions, such as the HIMSS, JCI and SRC. He said there are many hospitals, doctors and professors abroad who are interested in China. They will likely see this kind of certification and say, "Oh, this hospital is more likely to have the capability to increase the success of our collaboration".
Wrapping up the interview, we told Doctor Morse that it's delightful to talk to an online celebrity like him (he made the headlines in local media when started working in Guangzhou). He laughed and said, "he's not any more". In these two years, the hospital has employed three more full-time foreign physicians and quite a few foreign researchers.
Morse hoped that he would have the opportunity to be a part of things here for many years to come. "I think Guangzhou is an exciting place to live and work. It's interesting that the city is less well known in the west, but it is the country's economic center and the place where most of the Chinese people we meet and the restaurants we visit in the U.S. come from."
---
这两年,广州有位哈佛洋教授在公立医院看诊
     星期一早上八点,我们踏进位于珠江新城的广州市妇女儿童医疗中心(妇儿中心),这里早已一如往常般人头涌涌。穿过人群,我们乘电梯来到十一楼,Abraham Morse教授的办公室便在这里。
     他的办公室和其他公立医院的办公室一样,墙面漆成了灰色,摆放着整洁的桌子和一张诊疗床。然而,书柜里的原版医学书籍和墙上的英文证书又预示着办公室主人的与众不同。
     Morse大概是全广东第一位在公立医院任职的"洋医生"。2016年,他来到广州妇儿中心,担任妇科泌尿专科的科主任。外籍医生在公立医院任职这样难得的机会,促成了他与广州这座城市的姻缘。
     据他介绍,中国公立医院虽然在组织架构、处事方式上和美国医院迥异,但经过两年的工作,他发现这里的工作和他过去在美国时其实是很相似的。
     现在,Morse每周都会出门诊,负责培训部门的手术水平、学术水平。在每天教同事英文的同时自己努力学习中文。他说:"刚来的时候,同事和我说英文,现在我和同事说中文。其实医学术语也没那么难嘛,比如'ectopic pregnancy'就是宫外孕。"
结缘中国公立医院
     Abraham Morse毕业于世界最顶尖的医学院之一——哈佛医学院,在泌尿妇科临床治疗和科研指导方面,他都是首屈一指的专家。其实,Morse早在1986年就来过中国,在那之后他一直都希望能回到这里。
     他说:"我很喜欢中国,因为我和中国人有很多共同点。我很欣赏他们的生活态度,他们大多都非常努力,也很重视教育,尽力把最好的给自己的孩子。"Morse也是如此,他希望自己的孩子可以走出波士顿,走出马萨诸塞州,去感受外面的世界,看不一样的风景。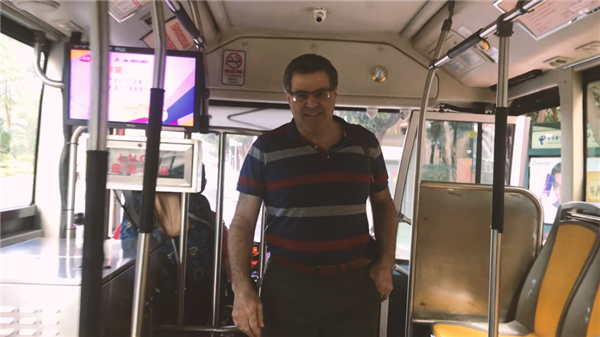 Morse医生每天乘坐公交车上下班【图/石磊】
     2016年,Morse偶然发现妇儿中心的招聘广告。"他们当时在找受过西方教育的医生做泌尿妇科的主任,这是一个非常难得的机会,大多数外国医生可能会来公立医院交流、短期培训,他们基本都在中国的私立医院工作。"
     这背后反映的是广州近年来大力吸引海外人才,促进新一代信息技术、人工智能、生物医药等新兴产业发展的东风,市里制定、出台了一系列优惠政策,鼓励企业引进海外专家来穗工作、定居。
     据中国与全球化智库2017年的报告显示,每年有大约20万外国专家在广东工作,占全国总数的20.8%,这其中大约有三分之一的在粤外国专家都在广州工作。
Morse进行日常查房【图/石磊】
      Morse认为,如果中国公立医院想要提高医疗服务水平,更好地与国际接轨,那么引进外国医生是非常关键且必要的。
     "广州的医疗行业正急速发展。然而,有些领域,比如,技术的运用、安全麻醉和精细化手术等,其实在欧美已相对成熟,但是在广州才刚刚起步。所以我们这些外国医生,可以利用自己所学,帮助中国医生更快速得提高这些方面的专业能力。"
     在妇儿中心,Morse现在每天都会教同事学术研究方法和医学专业英语。他认为,对于本地医生来说,能看懂英文学术期刊,能用英文写论文是非常重要的。"如果他们能在权威的外国期刊上发表论文,这对妇儿中心将来成为一个全球认可的国际化医院是非常有利的。"
中西医学交流的民间使者
     广州妇儿中心是行内公认的一家具有国际视野的公立医院。"我们的院长夏慧敏教授对医院今后的发展很有一套想法。这两年间,我在医院参加了很多国际交流活动,"Morse说。
    "如果有海外宾客来医院参访、交流,我通常负责为他们解答各种疑问,比如中国的医院是怎么运作、具体问题要和哪些人沟通等等。我很希望可以帮到他们,让他们了解公立医院的情况,什么样的合作在这里可能成功。"
     今年2月,广州市妇儿中心和国际顶尖期刊《自然》共同举办了妇女儿童健康国际学术研讨会,海内外30多位知名妇产科、生殖医学和儿科专家出席盛会并发表主题演讲,与听众进行面对面的交流。
     Morse说:"我非常荣幸在会议期间负责打点其中一位专家在广州的行程,她是全球知名、非常优秀的妇科医生。这让我非常兴奋,如果不是这次机会我根本没想到自己能见到她。"
     广州妇儿中心现已获得多个国际主要医疗卫生组织的认证,包括HIMSS、JCI和SRC。在其中,Morse也贡献了自己的一份力量。他说国外有许多医生、教授和医院都对中国都很感兴趣,而他们会更倾向联系这些认证的医院,因为觉得和这些医院合作更可能获得成功。
     由于少有外籍医生在公立医院任管理职位,Morse刚来广州时候就上了线上线下新闻头条,是个不折不扣的"网红"。采访结束后,我们说很高兴能见到网红本人。Morse大笑说"现在不是啦!这两年我们医院又招聘了3位全职的外国医生和一些外国研究员,这里的外国医生越来越多了。"
     Morse希望在未来的许多年里都可以成为广州的一份子,参与到城市的发展中,他说:"我在这里生活和工作很开心。有意思的是,外国人对广州不如对北京、上海熟悉,但它是中国的重要经济中心,而且我们在美国遇到的华人和餐馆老板其实大多都来自这里。"
记者:尹珏文、陶心怡
编辑:欧阳妍