China's COVID-19 vaccines can provide protection against very dangerous variants, public health experts said on Friday as the country considers expanding the use of inoculations to cover more children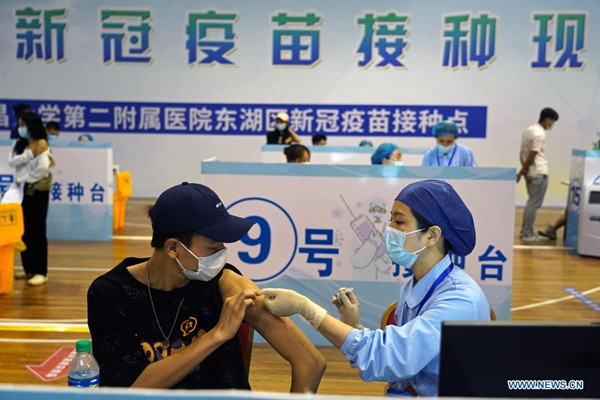 A medical worker administers a COVID-19 vaccine to a college student in Nanchang, capital of East China's Jiangxi province, June 4, 2021. [Photo/Xinhua]
Domestic shots effective against major variants around the world, experts say
China's COVID-19 vaccines can provide protection against very dangerous variants, public health experts said on Friday as the country considers expanding the use of inoculations to cover more children and the elderly.
Feng Zijian, a researcher at the Chinese Center for Disease Control and Prevention, said recent patients in Guangdong province who had not been vaccinated were at higher risk of developing severe symptoms.
"The ratio of severe cases among the unvaccinated group is markedly higher than that among people who had received vaccines," he said during a news conference.
Feng said the outbreak plaguing Guangdong was triggered by the B.1.617.2 lineage, or the Delta variant, which was first reported in India. The emerging strain is so far one of the most transmissible and one that is most likely to evade the immune response caused by vaccines.
Chinese researchers and drugmakers have said previously that available evidence from laboratory research and real-world monitoring shows that domestic vaccines can tackle all major variants circulating worldwide.
As of Wednesday, China had administered more than 845 million doses of COVID-19 vaccine to its people, covering 622 million or about 45 percent of its population, according to the National Health Commission.
Meanwhile, China has recently granted emergency authorization for the use of two inactivated COVID-19 vaccines among people aged 3 to 17, the commission said.
Shao Yiming, a researcher at the China CDC, said the two vaccines, from Sinopharm's Beijing National Biotech Group and Sinovac Biotech, had accumulated sufficient data from clinical trials involving the younger population.
"They submitted timely data to authorities, and experts have conducted careful examinations and review," he said. "There is enough evidence to support that these vaccines are safe among people aged 3 to 17, and they are very potent in eliciting antibodies in them."
Cui Gang, an official at the commission's disease prevention and control bureau, said, the country's mass immunization campaign currently targets people aged 18 or above.
"We will organize experts to formulate detailed inoculation plans for people aged 3 to 17 based on the epidemic situation, the demands of the disease control work and the characteristics of relevant age groups," he added.
Regarding stepping up the delivery of doses to the elderly, Cui said the initial phase of mass vaccinations mainly covers seniors deemed to be at higher risk of infection and in good health.
As evidence from clinical trials grows, the country has issued its first technical guideline for COVID-19 vaccination, which states that people aged 60 and above should get the shots, Cui said.
"We will continue to guide local governments to inoculate the elderly in an orderly manner," he said.
In addition to the four domestic vaccines that have obtained conditional approval, China is also developing nasal spray and inhaled COVID-19 vaccines, said Shao, from the China CDC.