Have you got yourself a bite of this mouthwatering sweet? Here are some of the city's finest and unique mooncakes for you to choose from.
The Mid-Autumn Festival is just around the corner. It is a time for joy, reunions and stuffing our faces with its traditional delicacy, the delicious, mouthwatering sweet mooncake, a dream-come-true for someone with a sweet tooth.
The super-sweet pastries filled with different kinds of fillings make one drool just by thinking of them. Have you got yourself a bite of this mouthwatering sweet? Here are some of the city's finest and unique mooncakes for you to choose from.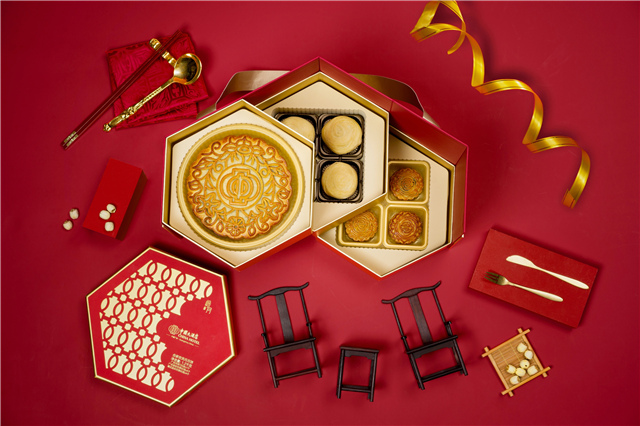 (Photo provided to Newsgd.com) 
Exclusively designed mooncakes by China Hotel
For over 30 years, China Hotel has presented exclusively designed and delicately crafted mooncakes with strict quality control and hand-picked ingredients. This year, the hotel is offering six selected boxes providing both traditional and inventive flavors.
The most popular product is the "Three-Layered Family Gift Box", featuring lotus seed paste with yolk, Chaoshan-style pea paste, Cantonese-style ham with nuts, and a new patented product, lotus seed paste with spirulina and egg yolk.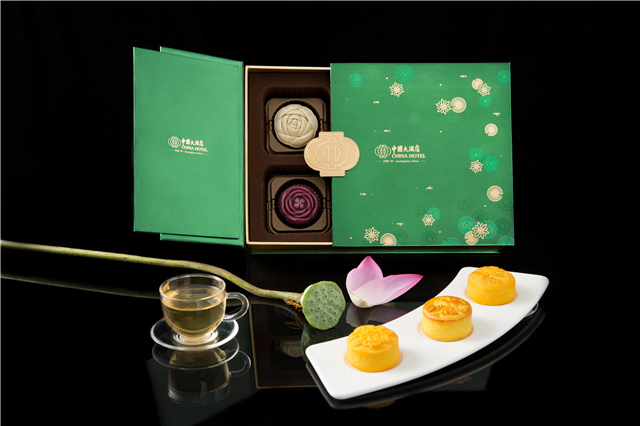 (Photo provided to Newsgd.com)
For those who are looking for something new, the "Moon Shining on the Lotus Pond Gift Box" provides a trendy alternative option. Six unique flavors are featured in this box, including peach lava, purple potato, cubilose custard, custard lava, pepper beef and scallop with XO sauce.
Exquisite mooncake collection by Four Seasons Hotel Guangzhou
Inspired by the "Magical Moonlight Box", a treasure allegedly used for traveling in search of a better life, the hotel presents three beautifully decorated boxes adorned with gathering clouds surrounding the moon and an auspicious rabbit, the iconic symbol of the Mid-Autumn Festival.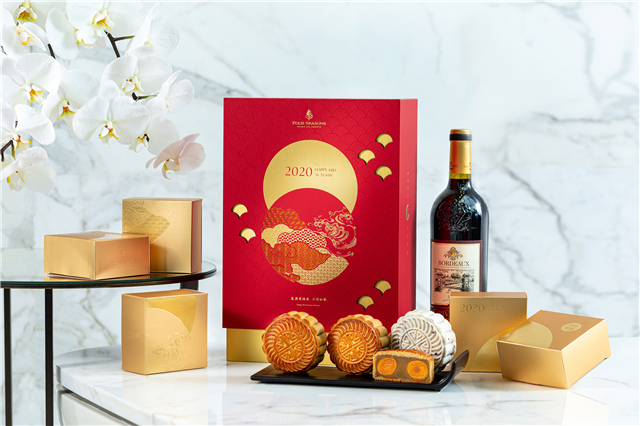 (Photo provided to Newsgd.com)
The "Classic Mooncake Box" features lava custard, a popular choice within China, traditional Da Hong Pao tea and lotus seeds with egg yolk mooncakes. The "Deluxe Mooncake Box" includes assorted nuts with ham, rose snow red bean paste and lotus seeds with double egg yolks.
The "Luxury Mooncake Box" combines premium ingredients such as abalone with mixed nuts, bird's nest with lotus paste, X.O. conpoy (dried scallops) and a selection of traditional favorites. This beautifully packaged box also includes a selected bottle of wine.
Delicate mooncakes by The Ritz-Carlton, Guangzhou
The hotel has exquisitely crafted a selection of delicate mooncake gift boxes that symbolize happiness and family reunions. The well-loved signature delicacies with traditional flavors are strongly recommended. The "Mooncake Gift Box" makes the ideal gift that symbolizes prosperity, happiness and family reunion during this festive season.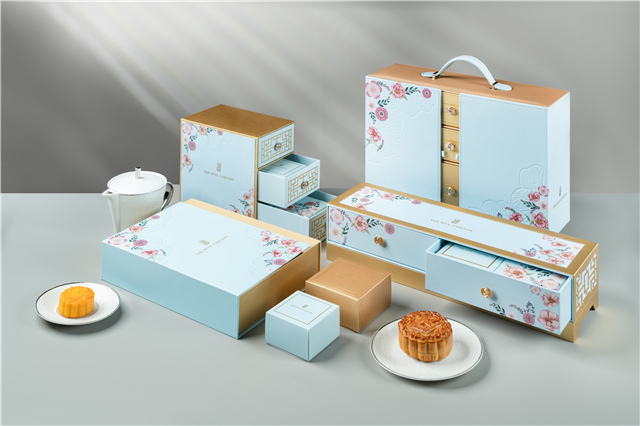 (Photo provided to Newsgd.com)
Special flavors include xylitol (a sugar alcohol flavour) paste with tangerine, sesame, red date, green tea, red bean, and pumpkin, egg custard, double egg yolk with lotus paste, and five nuts with ham.
Mooncake hampers by Grand Hyatt Guangzhou
The hotel's mooncake hampers featuring traditional Cantonese flavors are a fine choice for you to celebrate the annual Mid-Autumn Festival. Enjoyed every year, these festive delights make thoughtful gifts for family, friends and business associates.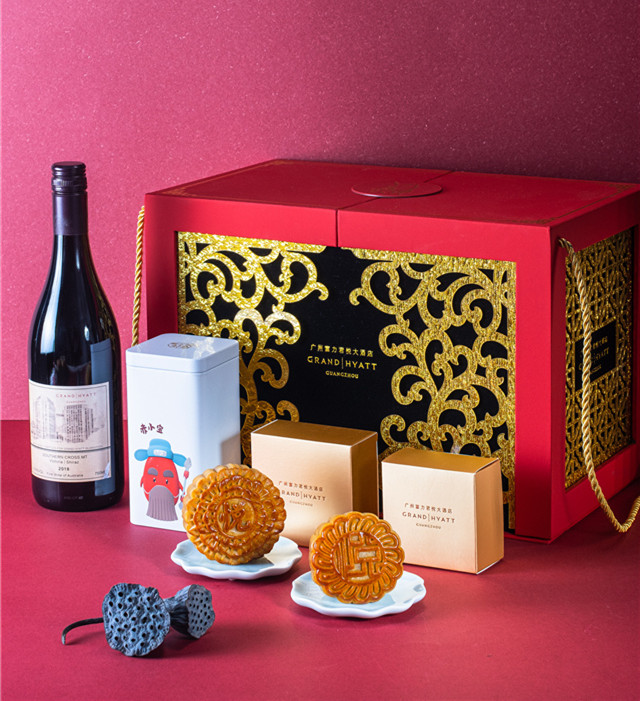 (Photo provided to Newsgd.com)
Popular flavors include white lotus paste with egg yolk, five nuts Cantonese style, creamy salted egg yolk, and red bean paste with dried orange peel. Some hampers also come with selected house wine and/or premium Chinese tea.
Gourmet mooncakes by Shangri-la Hotel, Guangzhou
Shangri-la Hotel, Guangzhou presents four categories of gourmet mooncakes, including classic, premium, personalized and hamper series. Each series consists of 16 gift boxes in 20 distinctive flavors, such as signature pure white lotus seed paste and Hong-Kong-made red bean paste with 30-year aged mandarin peel.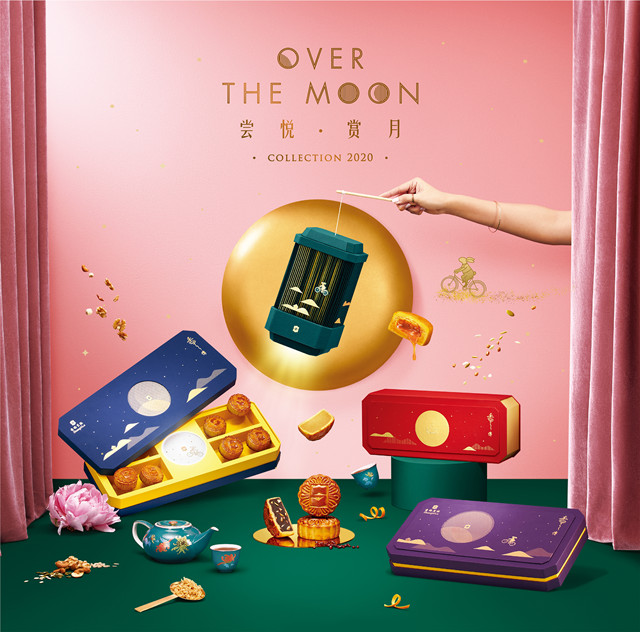 (Photo provided to Newsgd.com)
Shangri-la's selected corporate mooncake boxes are certified by Forest Stewardship Council (FSC and mooncake preparation applies the ISO22000 standard with the aim to contribute to a sustainable environment, food safety and hygiene.
Metro train locomotive shaped mooncakes
Featuring different cute shapes of metro train locomotives, the mooncakes jointly developed by Guangzhou Metro and Dai Tung Restaurant are so "unique" that we bet you have never seen before.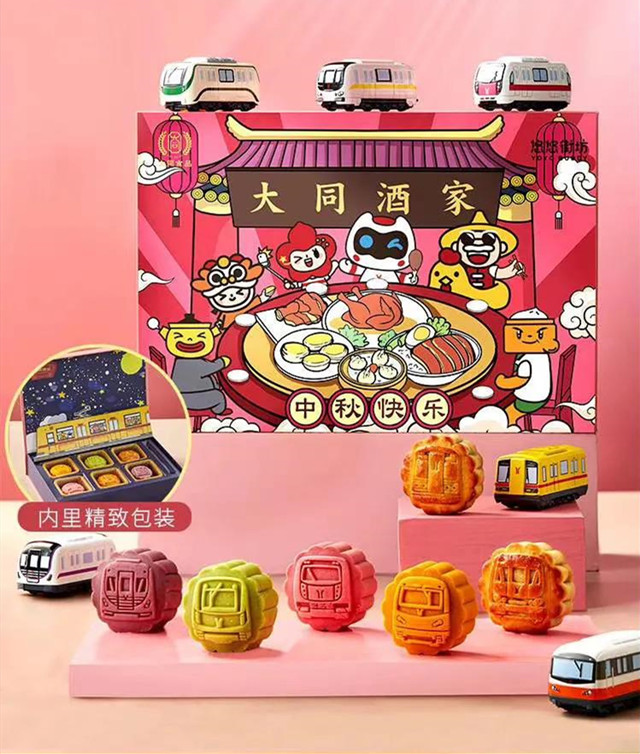 (Photo: Guangzhou Metro)
Classic flavors include tangerine red bean paste, rose snow cheese, osmanthus with almond, rattan pepper beef, and many more.
Author | Monica
Editor | Jerry