A few years ago, a Senegalese woman started her business dream around this street. Now, the torch has been passed to her daughter - Tabou
In Guangzhou, capital of Guangdong Province, there is a saying goes that you must take a selfie with the Tianxiu Building if you were from Africa who newly arrive in the city. The building is a microcosm for the billion dollar trade boom taking place between African nations and China.
Right across the building is maybe one of the largest African migrants' communities in Guangzhou, named Bao Han Zhi Street. Barbecued chicken smoke and African pop music fills one hallway. On another floor, halal food and the odor of new leather bags brim with the street.
A few years ago, a Senegalese woman started her business dream around this street. "My mom, a businesswoman engaged in China-Africa trading, used to be here. She was the one who invited me first to come here." Tabou, a Senegalese singer who has been living in Guangzhou for 4 years, told the journalist. Now, the torch has been passed to her.
A music dreamer
In many TV drama and movie show, music dream starts in a small bedroom. A one-bedroom apartment in Bao Han Zhi Street, a guitar, those are all Tabou needs for chasing her music dream in Guangzhou.
.
Tabou sang the famous Chinese folk song 'Jasmine' in her apartment [Video/Steven, Eric, Newsgd.com ]
"I am the only African guitar player in Guangzhou as a female." Tabou smiled, and said "Since my childhood, I have been in love with music. As a child, I've always like to sing and dance. I always have something to say about music. It's something that vibes me and it's my pleasure. When I grew up, I told my mother that I wanted to be a musician, a singer."
When Tabou's mother was doing business in Guangzhou, Tabou came to join her for a while. Afterwards, she started learning language and went to a university where she took a test and passed it.
"After learning Chinese for three years, I found it would be nice if African people can have an artist who can represent their culture in China."
Now she has many Chinese friends and she has a Chinese name Feifei.
"Maybe sometimes my Chinese is not 100 percent right, but I am trying and putting Chinese sentences in my songs."
Now, a part of Tabou's dream is to have a chance to work with Chinese people more often, like working with Chinese producers, making an album together with Chinese artists if possible.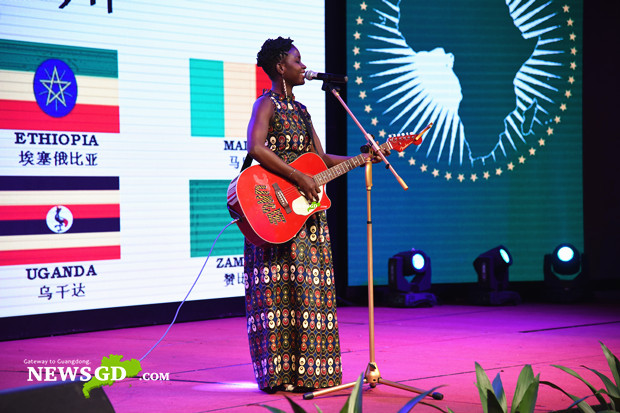 Tabou presented singing performance on 2018 Africa Day, Guangzhou [Photo/Steven, Newsgd.com]
"Actually it's difficult for me to keep a Chinese artist's name in mind and retell them. But I am impressed by the song Jasmine (茉莉花), Friends (朋友), and Cherie(甜蜜蜜)".
---
A peaceful narrator on varied life
Tabou in her apartment [Photo/Steven, Newsgd.com]
In most of the dream-makers' stories, the leading character always holds on one thing straight to the end. But for Tabou, her dream is more diversified and much bigger.
"When I started music, I was a writer. Most of my lyrics are about peace, love, encouraging people, hard-working and keeping people moving on. There are so many difficulties in life, if one just focuses on what is wrong instead of what is right, he will be so disappointed in life."
Tabou believes that music is just a way of communications. She once took communication courses in America before she came to Guangzhou.
"Everyone in the world is a communicator. I think communication is a skill that everybody needs to learn. EVERYBODY. It's something good to know how to say positive things to people, and music is a part of that."
After staying in Guangzhou for four years, Tabou has found many interesting stories that she'd like to tell in the future. In the spare time, she usually goes to the Guangzhou Library, Zhujiang New Town.
"I enjoy reading a lot. I think in the future I would like to be a writer. I would write my life in Guangzhou into a book. People here are very passionate, and in some respects, pragmatic. The business is thriving here. If you can see, people are well-organized. In terms of the transportation, it's very convenient and comfortable and you can go everywhere as you like, as quick as you want."
"Cantonese (dialect) has a very beautiful accent. When I hear someone speak Cantonese, I cannot help but having a look on them even on a metro. In future, my dreams include working in a movie that talks about Africans living in Guangzhou," says Tabou with smile in her eyes.
Reported by Keane, December
Photoed by Steven
Edited by Wing