China's first spallation neutron source, the world's fourth such facility, is in Dongguan. As a "super microscope", China Spallation Neutron Source (CSNS) is vital in understanding the characteristics
.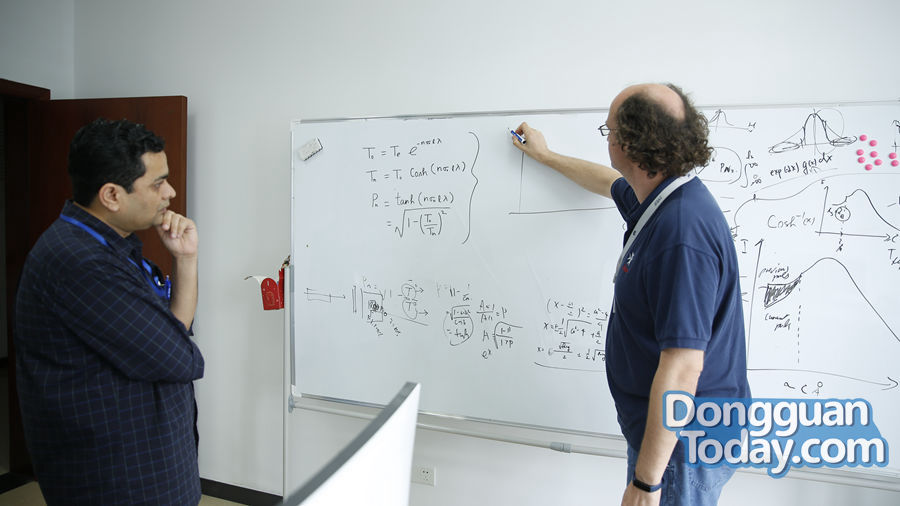 Indian scientist Syed Mohd Amir (L) and German scientist Wolfgang Kreuzpaintner (R)
China's first spallation neutron source, the world's fourth such facility, is in Dongguan. As a "super microscope", China Spallation Neutron Source (CSNS) is vital in understanding the characteristics and behaviour of certain materials. It can be applied in a wide range of fields, including life science, new energy and nanotechnology. It is like a "super magnet", attracting the most advanced scientific research institutions and top talents from all over the world.
The academician Chen Hesheng, also the general director of the project, once predicted that "in a few years, it will be a commonplace thing to encounter world-class scientists in Songshan Lake." Now, the words have gradually become a reality. From 2019 to 2020, the overseas scientists Dr Wolfgang Kreuzpaintner and Dr Syed Mohd Amir joined the CSNS, helping to build a high-quality Dongguan.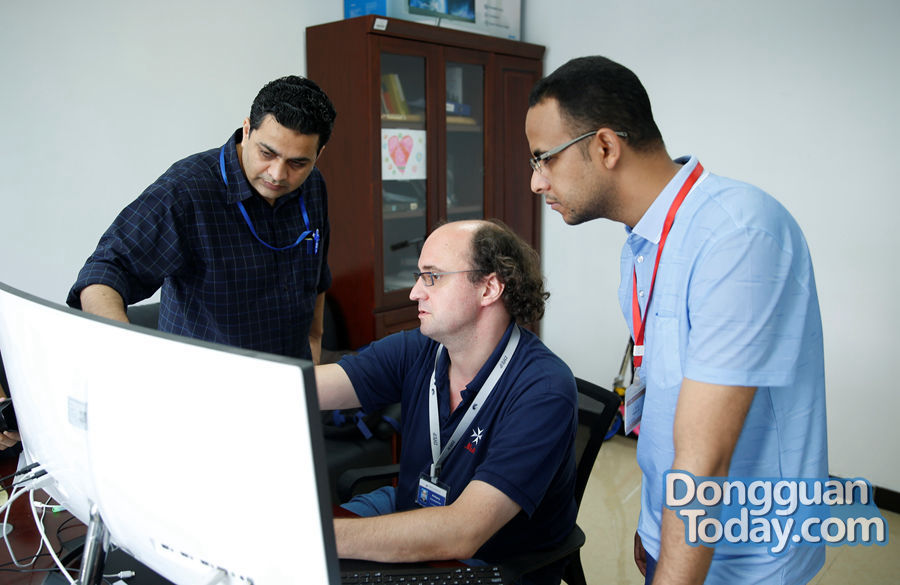 Wolfgang Kreuzpaintner (M) and his colleagues are having a scientific discussion.
Dongguan is speeding fast.
Dr Wolfgang is from Germany. After obtaining a PhD in physics from the University of Hamburg in 2010, he joined the Technical University of Munich as a post-doctoral researcher, focusing on X-ray and neutron scattering technology in multiferroic thin film materials. He is an expert in the field of thin films, X-ray and neutron instruments.
From 2015 to 2018, he was geared toward studying magnetism in thin films, hetero-structures and nanostructured materials and related electronic systems using X-rays, neutrons, and synchrotron radiation, which has very extensive application now and in the future. From magnetic data storage to neutron polarization equipment are all within the application scope.
In 2018, Dr Wolfgang was invited to give a presentation at Songshan Lake in Dongguan. "At that time, I realized that this was quite a big thing. Everything was new, and everything was dynamic." It was an excellent opportunity to make the most of his talents. In 2019, after obtaining the qualification of a tutor at the Technical University of Munich, he officially joined the CSNS in September, and he became a member of the Tong Xin researcher's team. He is dedicated to the construction and development of neutron polarization devices for domestic and foreign researchers. In less than two years after that, he witnessed rapid growth and improvements at CSNS.
During his scientific research period in Dongguan, what impressed him most was the development speed of Dongguan. In the past two years, the Science Center of CSNS has jointly worked with the City University of Hong Kong, the University of Macau, and Dongguan Institute of Technology to set up the "Guangdong-Hong Kong-Macao neutron scattering science and technology joint laboratory". Furthermore, the CSNS has joined hands with the City University of Hong Kong and Dongguan Institute of Technology to build a multi-physics spectrometer, which successfully obtained a neutron beam on January 26 this year. And dozens of advanced scientific research equipment have finished debugging and are ready to come into service. "The speed of development here is breakneck, which is impressive, especially for someone who comes from Europe, or Germany." he explained, "There's a lot of changes happening in a very short time. I would say it reaches a point in 2 years that other places may need ten years to reach."
In April, Songshan Lake Science City, as the first start-up area of the Comprehensive National Science Center in the Greater Bay Area, was officially launched. Several large advanced scientific devices and first-class laboratories such as the Advanced Light Source and the Songshan Lake materials laboratory settled in Songshan Lake, all close to the CSNS. Mentioning that, the top scientist is full of expectations. He believes that it will attract a large number of scientists to work here. And the advanced equipment concentrated in Dongguan will make it more convenient for the researchers to do experiments in the future. "I think it's good to bring scientists together in one place. We don't have to travel so far. We don't have to look around for the equipment. It helps and improves scientific exchanges. That's an excellent thing."
---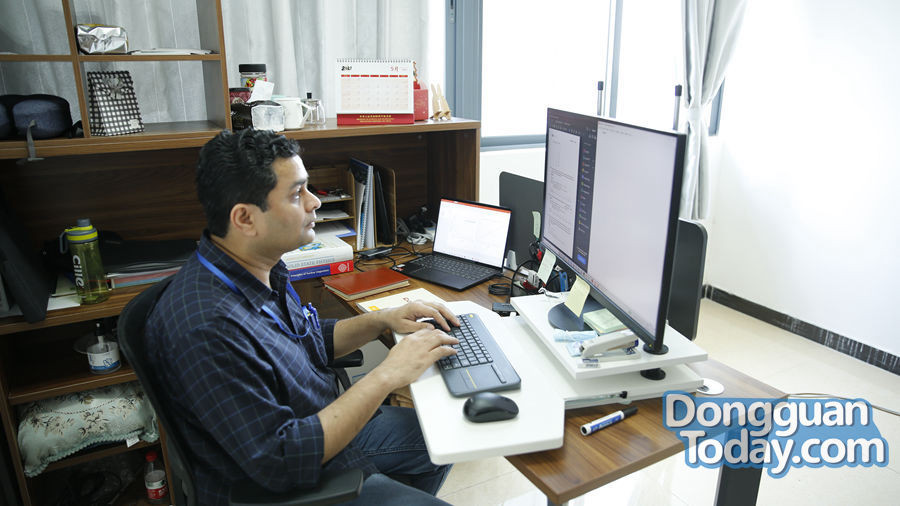 Syed Mohd Amir is working.
There's not much difference between working in Dongguan and other places.
Dr Amir, who is in the same team as Dr Wolfgang, is from India. He graduated from the UGC-DAE Consortium for Scientific Research in India. He majored in physics and obtained his PhD. He's mainly concerned with magnetic films. Before arriving in Dongguan, Amir spent five years conducting post-doctoral work at the Jülich Research Center in Germany (now renamed the Jülich Neutron Scattering Center), one of the largest interdisciplinary research centres in Europe, mainly researched neutron reflection technology on magnetic thin films. With the increasing interest in the polarized neutron scattering technique, when he learned that the researcher Tong Xin opened the position for his team, he applied and finally became one of the members. In February 2020, he came to CSNS for a new round of post-doctoral work, using polarized neutrons and magnetic thin films in spintronics.
Dr Amir knew of Dongguan before he came here. "When I was in Germany, some of my friends who had been to Dongguan told me that it is a very modern and amazing city. And I found that it's better than I imagined." When he was in Dongguan, he found that Dongguan is very close to Europe, with well-developed transportation and a livable environment. After conducting his research work in CSNS, he realized that the city has considerable potential for scientific development.
"Before coming here, I was working at the Jülich Scientific Research Center in Germany. Although it is in the early stage of development and has improvements to be made, the research environment and the capacities of talents here are close to those of other first-class scientific research institutions aboard. For me, there's not very much difference between working in Dongguan and other places. I find myself very comfortable doing science here." the Indian researcher said.
Dr Amir thinks highly of the freedom of doing research and the support from colleagues. "My boss and colleagues are all outstanding and intelligent scientists. They give me a lot of help and support at work. If I have any ideas, I can talk with my boss, he just allows me to do, which gives me enough freedom. Whenever I have some questions, I can ask him too. He is very supportive and always has excellent ideas. There are lots of opportunities to do good science and learn." When he communicates with other scientists, it can always help Amir open his mind and spark off new ideas. "In my group, everyone is very supportive, and I enjoy learning and doing science here." He is very excited for Songshan Lake Science City and hopes to see more high-tech talents work in Dongguan. "I know a few of my friends are going to work here. So, this is a very good interconnect," he added. The gathering of talents will make scientific communication more convenient.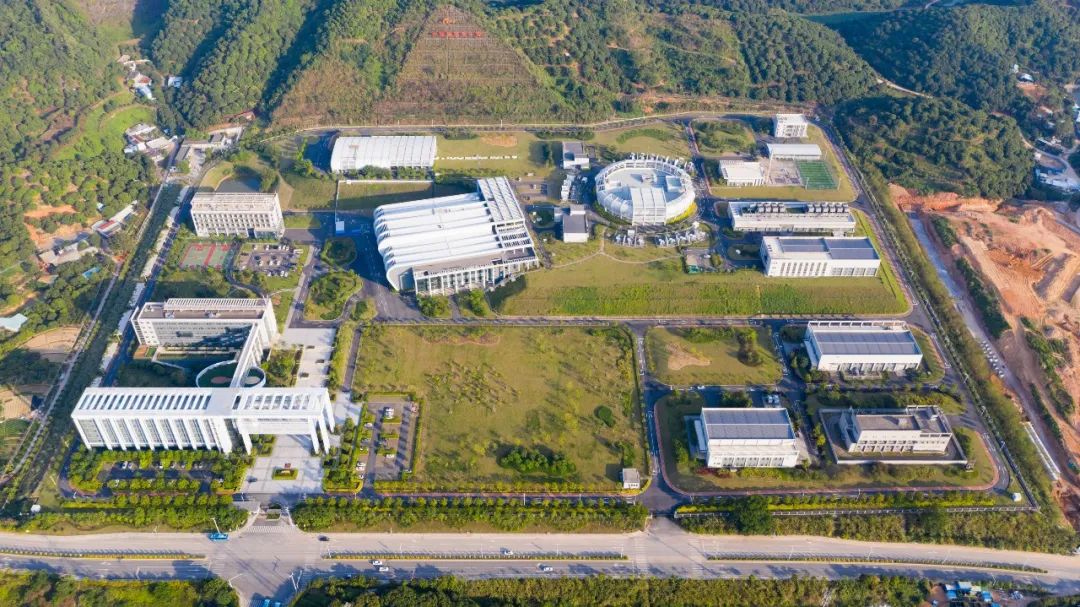 China Spallation Neutron Source (CSNS) is hidden in the green hills.
Talents live and work happily in Dongguan.
Although the CSNS is far away from the city centre, the environment is beautiful, and the supporting facilities are complete. In their spare time, the scientists like to go for a walk along the nearby small lakes. "The city centre is bustling, but I prefer here most. It is quieter, and the air is clean, making it suitable for living and working," said Amir.
Although they mainly lived in Dalang and Songshan Lake, it does not lower the quality of life. There is a wide variety of delicious food available for scientists. Hot pot, Dongguan rice noodles, Sichuan cuisine, braised frog, etc., are all Wolfgang's favourite. The CSNS is also equipped with gyms, basketball courts, badminton stadiums, table tennis tables and other fitness and entertainment venues and facilities. The living facilities are well-equipped. The canteen serves rich dishes. "It is very convenient and comfortable living here." He smiled.
In the past two years, Dongguan has continuously increased its support for the development of scientific research, making efforts in improving the academic research and development environment, and further providing many preferential policies and facilitation measures for talents, for example, the family settlement support, attracting more and more high-tech talents to work and make homes in Dongguan.
"Dongguan has given us a lot of support so that I can be engaged in my work." Dr Wolfgang's wife came to Dongguan with him. And now, their daughter is studying in a Kindergarten in Songshan Lake. Months ago, their baby son was born in Dongguan. The family live a happy life in Dongguan.