Hamdy Elsobky, an American software engineer, built a website to help the Americans to know more about China.
Editor's Note: This is one of the series reports entitled "Thump up for China", sharing foreign netizens' experiences in China on YouTube, Twitter, Quora, Facebook, etc. In this report, we interview an American software engineer, Hamdy Elsobky, who decided to build a website to introduce the real China after marrying a Chinese lady and traveling around China.
Hamdy Elsobky, an American software engineer, built a website to help the Americans to know more about China. The website "US-CHINA BUSINESS NETWORK" shares stories about China in the fields of technology, culture, entertainment, business, investment, travel, lifestyle, etc. Elsobky was born in Egypt and immigrated to the U.S. 33 years ago. He is now living in Los Angeles California with his Chinese wife.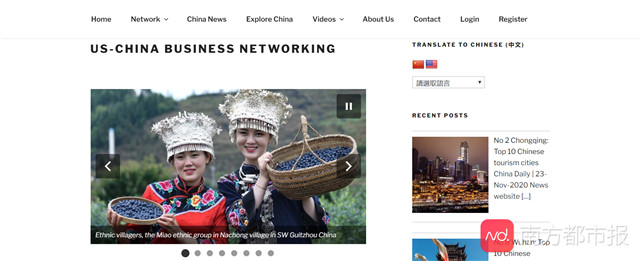 A screenshot of Elsobky's website. (Photo: Southern Metropolis Daily)
"I had a wonderful experience taking the bullet train in China."
Q: When did you start paying attention on China?
A: I have been interested in the world's ancient civilizations since I was a small boy and I was particularly intrigued by China's ancient history. Then, I fell in love with China, when I watched -in the early nineties- the documentary "The Long Ride", which follows Jim Rogers on a 1988 motorcycle tour of China.
Many Chinese people live in the community where I live in Los Angeles. It was through these Chinese neighbors that I met my Chinese wife. Because of these experiences, I have always paid close attention to China.
Q: When was the first time for you to travel to China? Were there some things special?
A: My first time to travel to China was in September 2019. My first stop was Beijing, I was excited about my surroundings like a kid in a candy store. I was impressed by China's technological advancement vs the United States and I had a wonderful experience taking the bullet train from Beijing to Xi'an. My visit to China has increased my fascination with China's culture and history.
Q: What makes you think China is attractive?
A: There are many reasons that I think China is attractive. Firstly, China is the embodiment of all that mysterious and exotic. Secondly, China is safe. Thirdly, major Chinese cities are famous for being great places for entertainment, music, arts, ethnic group festivals, with loads of great food.
Last but not least, I am extremely impressed by the work ethics, excellence, and discipline of the Chinese people. In my opinion, Chinese are the most hardworking people in the world. No wonder China has been experiencing the most impressive economic growth of the 21st century.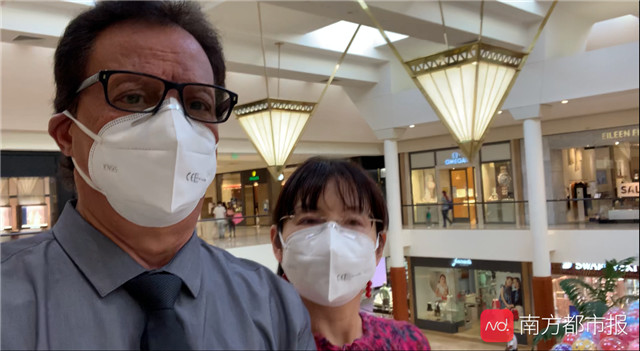 Elsobky and his wife in Europe. (Photo: Southern Metropolis Daily)
"The mission of my website is to highlight China's stories."
Q: Why are you willing to build this website?
A: It is not surprising to find that there is literally no news outlet based in the U.S. or the west that embraces China's views. I knew that I needed to do something to counter the unfair China bashing in the USA media which intensified during the Trump administration.
I am willing to spend time doing this because this is a passion/mission in life that I was looking for and I finally found which is to bring beautiful China to the world, so I am just following my passion. I do not make money from my website.
Q: How do you operate your website?
A: I launched my website in January 2020. In the beginning, I was not able to spend much time working on the website because I had a job. But since I resigned my job in April 2020, I am able to work more on the website. As a software engineer, it's not hard for me to build a website.
On a daily basis I browse China's English news outlets and select non-local stories that can be of interest to Americans and Western audiences and I post those stories on my website. I focus on business, tech & sci, art & culture, travel, lifestyle, and entertainment. I use my own experience, judgement and taste to select the best China's stories. For example, recently I selected "A visit to Asia's largest duty-free shopping mall" and "Buckle up for this immersive auto themed exhibition in Shanghai". I only post political news if it is related to China-U.S. relation.
Q: How many people are currently following your website? What feedback have you received from readers?
A: My website currently has an average of 2,000 visits per month. Not a high number, but the encouraging news is that 75% of those visits are coming from organic search and 25% from social media, existing followers, and others. It means that many Americans are willing to hear China's voices.
I often receive likes, reposts and comments from readers, and many readers express their love for the content of the website. Recently, a reader asked me, "what are the benefits of my website for the United States?" I replied to him, "Recently, Mr. Kissinger mentioned that he hopes that China and U.S. will face the threat of COVID-19 together, which can become an opportunity for the US-China dialogue after Biden takes office in January next year. He also suggested that the two countries strengthen exchanges and continue cooperation."
Also, my website suffered nearly 5000 malicious attacks that was blocked by a software plugin that I am subscribing to. I know that I would not be able to compete against the American and western media giants with a tiny website, but I did not let that discourage me. I thought of my website as a David facing the giant Goliath.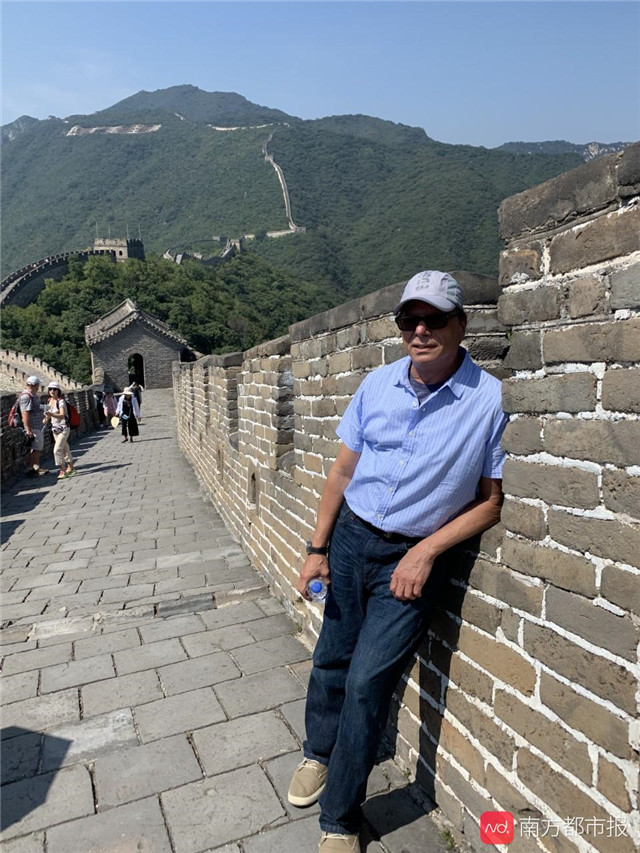 Elsobky in China (Photo: Southern Metropolis Daily)
"The less important the apparent differences are, and the more obvious our common interests are."
Q: Is your life currently affected by COVID-19?
A: COVID-19 is increasing at alarming rates in California. The governor of California has imposed nighttime curfew for non-essential activities in the counties within the widespread tier. American attitudes toward COVID-19 are divided along party lines (Republicans vs Democrats) over such issues as who fears the virus, wears masks, complies with social distancing and supports policies that help flatten the curve.
Q: Why did you decide to write the letter to CGTN?
A: My intention of sending my letter to CGTN and my current conversation with you is to get some people in China to read about my story. Not all Americans are hostile.
Q: What are your goals and plans for this website?
A: I am planning to operate this website in the future, my plan is to build a new, bigger, more advanced, scalable, responsive website with effective design and visually appealing.
I believe that the more Americans exposed to good normal stories about China, the less important the apparent differences are, and the more obvious our common interests are. China is not out to do all these terrible things they read in the media and Chinese just want to have a normal decent life like the Americans want to have. Hopefully, they realize that no country or system is perfect. We need to help each other.
The US election has come to an end. I think this is a good chance for us to rethink. It is also at this time that Americans urgently need to understand more comprehensive and objective information about China. Listening to different voices can dispel the prejudices, so I hope to do my best to convey the voice from China to more American netizens.
Author: Zhou Fei (Southern Metropolis Daily)
Editor: Monica Liu