"The China-US relationship is the most crucial bilateral relationship in the world," Neil Bush indicated in an interview with Chinese media at the 2019 Imperial Springs International Forum. "I'm very
"The China-US relationship is the most crucial bilateral relationship in the world," Neil Bush indicated in an interview with Chinese media at the 2019 Imperial Springs International Forum. "I'm very optimistic that things will get back on track."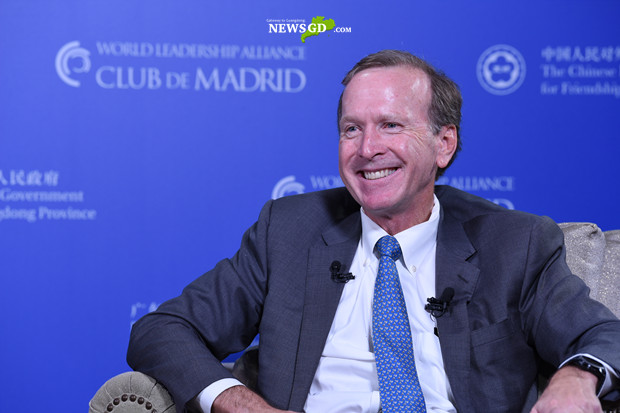 Neil Bush, third son of Former US President George H.W. Bush, as well as the chairman of the George H.W. Bush Foundation for U.S.-China Relations (Photo: Steven Yuen)
It is the first time for Neil Bush, third son of former U.S. President George H.W Bush and Chairman of the George H.W. Bush foundation for China–US Relations, to attend the Imperial Springs International Forum. This year, the forum's theme was Multilateralism and Sustainable Development.
Related story:
The "Imperial Springs Statement" a call to the defence of multilateralism
China-US relationship
Since the Reform and Opening-up, China's GDP has grown to 244 times what it was in 1978, amounting to 90 trillion yuan in 2018, an increase of 9.6% yearly, while more 700 million Chinese citizens have thrown off the yoke of poverty.
Neil Bush has witnessed China's development since his first visit to China in 1975. At that time, he remembers riding a bike around Beijing.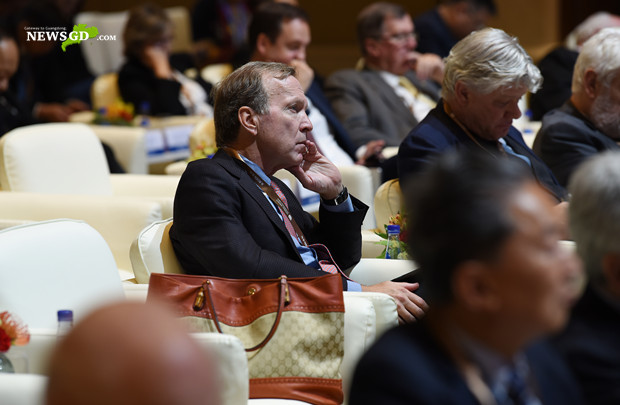 Neil Bush attended the 2019 Imperial Springs International Forum on December 1st in Guangzhou. (Photo: Steven Yuen)
"It is amazing to see how much China has risen and (how it has) lifted people out of poverty," Bush said. "In 1975, everybody in China was poor, but now, more and more people are enjoying a better life."
Since the US President Donald Trump imposed the first tariffs on China in 2018, the trade war between the world's two largest economies has been dragging on.
According to Xinhua News Agency, however, China and the US reached "a tentative phase one trade agreement" in October, covering agriculture, intellectual property protection, exchange rates, financial services, expanding trade cooperation, technology transfer, and dispute settlement.
"We (the US and China) are in a major dip now," Bush said. "A dip will lead us to a dialogue based on trust and make our relationship stronger."
Bush believes that the China-US relationship is a win-win partnership, not only for both the two countries, but for the whole world.
"China and the US can achieve anything, as long as they cooperate with each other." Bush added.
"(Experience) has taught me that America's system works for America, but China's system works for China, and we can't try to impose our system on anyone else." Bush stated. "There's a greater need now for collaboration than ever before, because human challenges are growing."
The Hong Kong question
"I want to go on the streets and ask the protesters 'why are you here?" Bush feels curious as to the motivation behind the unrest in Hong Kong.
"The 'One Country Two System' has been working very well and people in Hong Kong have the freedom to do everything." Bush said. "No freedoms have been taken from Hong Kong people since Hong Kong was returned to China."
From his points of view, there may be some real problems in Hong Kong, such as income disparity and young people's inability to afford housing. Bush indicated. His belief that,"those problems will be worked out by Hong Kong government."
The US senate recently passed the Hong Kong Human Rights and Democracy Act of 2019, Bush criticized this act saying: "I don't think the US congress is well enough informed to have an opinion," going on to stress, "If I were in congress, I wouldn't have signed that legislation".
"There is such a diversity of business sectors growing out of Guangdong."
Guangdong has made remarkable achievements in the past forty years since the Reform and Opening-up. Bush is impressed by the diversity he has seen in the business sectors emerging from the province, "The apparel business was dominant for many years" he said, before noting the move toward "technology business, and education institutions being developed.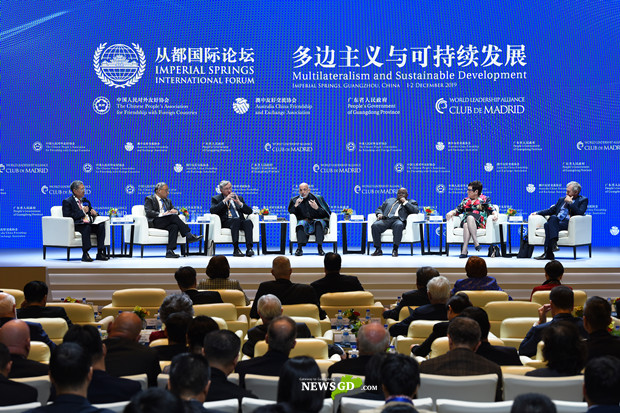 The 2019 Imperial Springs International Forum was held in Guangzhou from December 1st to December 2nd in Guangzhou.(Photo: Steven Yuen)
Guangdong Province was once known as the 'world's factory', possessing a large-scale labour-intensive industry that produced everything from toys to electronics to be sold around the world.
Due to increasing labour costs and the financial crisis, in 2008 the 'world's factory' started transforming and upgrading its manufacturing sector from labour-intensive to technology-driven; especially after 2012, when the Guangdong Government launched its Innovation Driven Development Strategy.
After five-years of development, the innovation sector has begun to take shape in Guangdong with more than 20,000 high-tech enterprises laying claim to over 160,000 valid invention patents yearly, topping any other region in China.
Bush's most recent visit to Guangdong was to Zhuhai two weeks ago, co-chairing the second international symposium on the peaceful use of space technology.
Authors: Hannah Zhou, Steven Yuen
Editors: Wing Zhang, Simon Haywood