<P><FONT color=black>Known as China's first school directed by a mainland university for Hong Kong and Macao students, the Affiliated School of Jinan University for Hong Kong and Macao Students (ASJ)
Known as China's first school directed by a mainland university for Hong Kong and Macao students, the Affiliated School of Jinan University for Hong Kong and Macao Students (ASJ) yesterday ushered in its first school day since its founding.
Located in the beautiful Longyandong Forest Park (龙眼洞森林公园), ASJ is jointly organized by Jinan University, Hong Kong Victoria Harbor Education Group, Aoyuan Group, and Dongguan Eaton Education Group.It covers an area of about 40,000 square meters and can accommodate 1,200 students at the same time.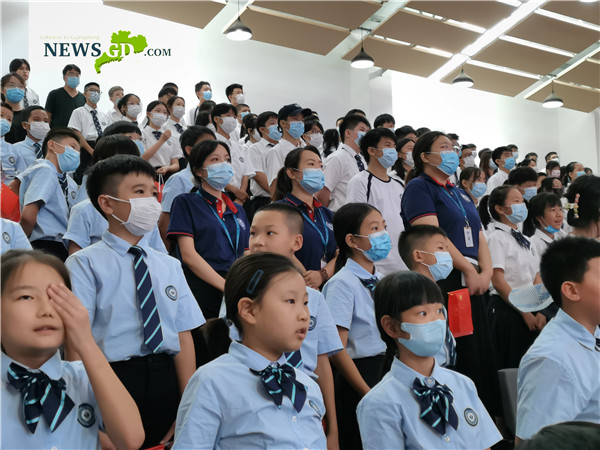 The students are attending the opening ceremony. (Photo: Newsgd.com)
Features of school curriculum
ASJ is committed to become a benchmark international school with Chinese characteristics and build an "IB (International Baccalaureate) + Hong Kong and Macao + Mainland Integrating Course" education system, according to Feng Yan, ASJ's Executive Principal. Unlike other international schools in the mainland, ASJ does not directly introduce western courses or Hong Kong courses. It will integrate mainland's Chinese and mathematics courses to provide students with diversified learning opportunities.
The IB course includes six topics—who we are, where we are in place and time, how we express ourselves, how the world works, how we organize ourselves, and sharing the planet.
Students can finish kindergarten, primary school, junior high school, and high school continuously through ASJ. In the high school stage, students can achieve higher education in Hong Kong, Macao and overseas universities through HKDSE or other international courses, such as IBDP (International Baccalaureate Diploma Programme) and A-level (General Certificate of Education Advanced?Level).
Faculty team
According to the teaching director Yang Lihong, ASJ has signed more than 50 teachers, 70 percent of which are Hong Kong and foreign teachers. The teacher-student ratio is roughly 1:6.
Tuition and scholarship
The current tuition for primary school is 88,000 RMB/year, junior high school is 128,000 RMB/ year, and high school is 168,000 RMB/year. The school also established scholarships. Maximum scholarship is equivalent to the annual tuition.
A little girl holding a scholarship certificate. (Photo: Newsgd.com)
First school day
On the first school day, more than 350 new students came to attend the opening ceremony and held a stately flag-raising ceremony. The school's two principals—Chief Principal Cheng King Leung and Executive Principal Feng Yan—acted as flag raiser and flag bearer respectively. The five-star red flag rose slowly amid the majestic national anthem.
The school invited Wang Bing, vice president of Jinan University, Su Guohui, academic of Chinese Academy of Sciences and the American National Academy of Inventors, and other experts from different fields to celebrate this big day. Su Guohui shared his own growth experience on the ceremony and valued the significance of diversified and happy teaching methods. He said ASJ has set up various interesting courses, such as Chinese studies classrooms, physics laboratories, and flying laboratories for kids. These courses can greatly stimulate children's innovative spirit, which is a vital characteristic in his mind.
Chief Principal Cheng King Leung said in an interview with GDToday that thanks to his past work experience, he is quite familiar with Hong Kong's international education system. It not only focuses on rigid knowledge acquirement, but teach various learning skills and attitudes. He hopes to fully draw on these advantages and bring them into the mainland's examination system. "I hope one day, there is a kind of international school called Chinese International School," he added. "It's our system, and we can develop our education over other parts of the world."
During the ceremony, 16 students performed a poem recitation—Paean of Hong Kong. Children's clear and firm voices accompanied by the beautiful melody of a piano witnessed the official arrival of the school day.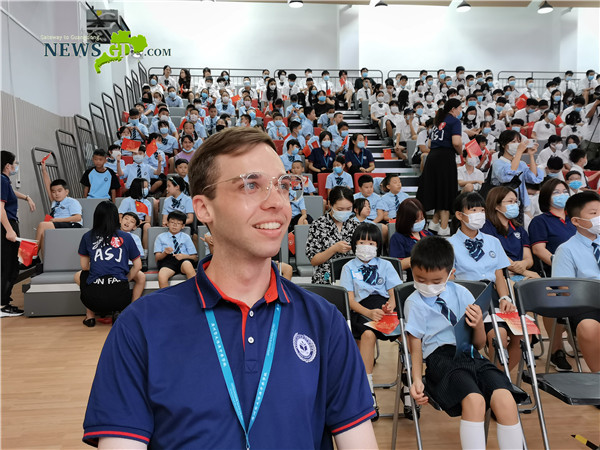 An ASJ teacher is attending the opening ceremony. (Photo: Newsgd.com)
Author: Ariel, Catherine, Emma (intern)
Editor: Monica, Jerry