On May 17, Guangdong reported a new local asymptomatic case in Foshan.
On May 17, Guangdong reported a new local asymptomatic case in Foshan.
Guangzhou's Liwan District today (May 18) started mass nucleic acid testing in its Xicun, Nanyuan, Zhanqian, Caihong, Shiweitang, and Chajiao Subdistrict (西村、南源、站前、彩虹、石围塘、茶滘街道).
According to a notice issued by Guangzhou Nansha Info (广州南沙发布) yesterday, Nansha District will carry out regular nucleic acid testing. As of May 31, residents are advised to take a test every 5 days.
Several districts in Guangzhou have recently released notices to start regular testing.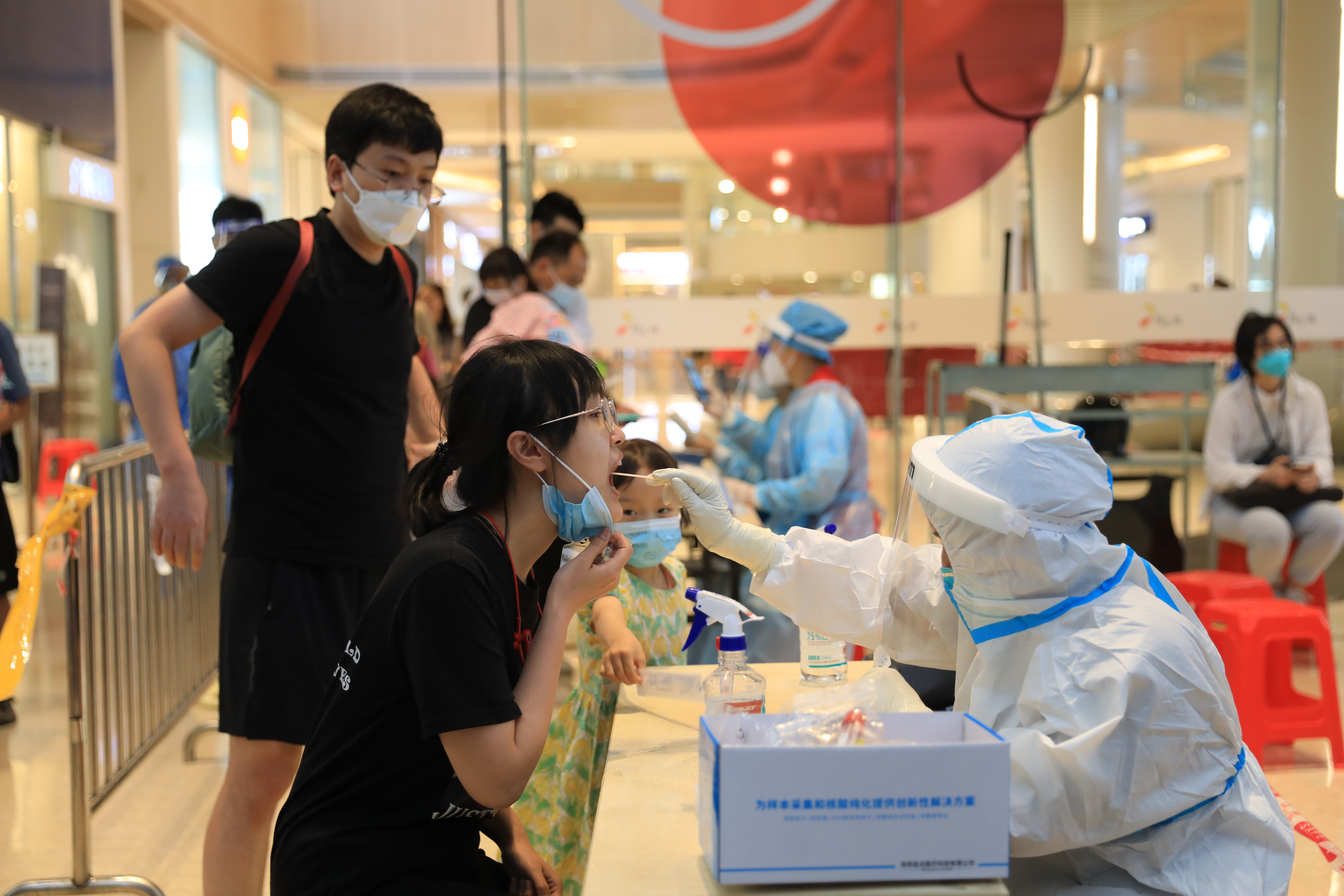 (Photo: Nanfang Daily)
Foshan's Nanhai district reports 1 new local asymptomatic case
On May 17, Foshan's Nanhai detected 1 new local asymptomatic case among the close contacts under centralized quarantine.
The asymptomatic case is a 44 year-old female engaged in individual trade, who lives in Dali Town, Nanhai District. She was a close contact of a positive case previously reported on May 15. She started centralized isolation on the same day.
Her test results were negative on May 15 and 16, and positive on May 17. The patient was later diagnosed as an asymptomatic case.
From May 19 to 22, when entering public places in Chancheng, Shunde, Gaoming and Sanshui Districts, residents need to present a negative nucleic acid test certificate or sampling record.
Starting from May 16, when entering public places in Nanhai District, residents need to show negative nucleic acid test results valid within one week and no earlier than midnight on May 15.
Zhanjiang's first batch of patients during this wave of epidemic discharged from hospital
On the evening of May 17, 2 patients in Zhanjiang were discharged from the hospital.
The two recovered patients were transferred to the Public Health Center of Lianjiang People's Hospital for quarantine and observation and will return to normal life soon.
Since May 18, except for the lockdown area, mass nucleic acid testing has been suspended in Potou district.
Since May 17, Zhanjiang has begun the orderly opening of parks except for those in "three areas", namely the lockdown area, partial lockdown area, and restricted area, parks will continue to be closed. Other parks will be opened in an orderly manner.
From now on, except for the playing field in Haibin Park and Cunjinqiao Park, which will continue to be closed and conduct disinfection, city's other parks will reopen, with epidemic prevention and control measures strictly implemented.
Dongguan suspends door-to-door delivery of personal international mail
Starting from May 18, Dongguan has suspended door-to-door delivery of personal inbound mail. Residents need to pick up the mail at 12 designated sites in the city with valid identity documents.

Author | Hannah, Jiang Chang (intern), Peter (intern)
Editor | Wing, Steven, Abby, Jerry